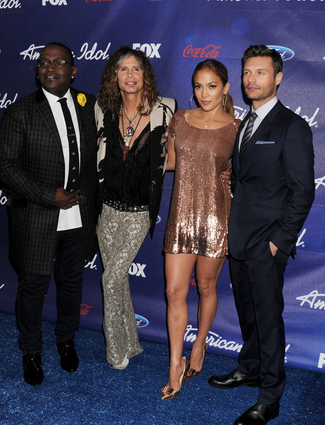 Photo: Kevin Winter/Getty Images
While the fashion world may be excited for a little lull as fashion week in Paris is coming to an end, there are two designers who won't be able to jet off to St. Barts for a little R&R. It was just announced that Tommy Hilfiger and Jean Paul Gaultier are branching out to reality TV and Diet Coke…
Jean Paul Gaultier has been named the new Creative Director of Diet Coke, taking over the position from Karl Lagerfeld.
Adam Levine To Launch Fragrances For Men and Women

The designer will work on a range of products, but our favorite is his homage to his curvaceous perfume bottles with his Diet Coke model that will be in the shape of a woman!
"It was great fun to dress them," Gaultier said. "The Diet Coke motif is so beautiful, I had to design around this. The finishing touch was to apply my logo to the bottle, like applying a fragile stamp – making it something special you want to touch."
Designer Shoe Collaborations At ALDO

Gaultier will also be involved in the product's website content, retail concepts and the advertising campaigns.
As for Tommy Hilfiger, he will be joining the ranks of American Idol as the show's image advisor. As a consultant on the live finals beginning next Thursday, he will help the finalists in their style transformations.
"I am honored to be joining the 11th season of American Idol," Hilfiger said. "My own experiences at the beginning of my career inspired my commitment to mentor young people who are dedicated to pursing their dreams. I look forward to working with the artists to guide them in defining their performance style and identity."
What do you think of Gaultier and Hilfiger's new gigs?