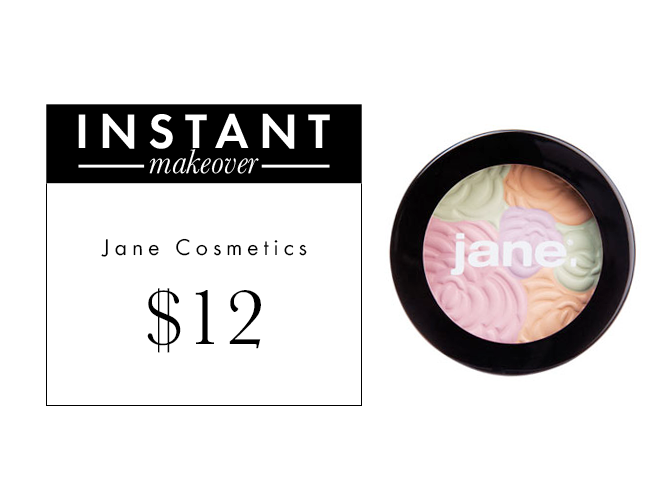 Occasionally we come across a product that bestows an immediate glow, changing our look (for the better!) in an instant. Since we'd be remiss to keep them to ourselves, we highlight these genius finds in our Instant Makeover series.
Although powder has always been a mainstay in beauty routines—"excuse me while I freshen up in the powder room"—it's also had its fair share of ridicule. Too much of the white stuff can leave skin looking dry and ashy. Buildup even highlights the pores, one of our biggest foes. Yet now, Jane Cosmetics (yes the beloved brand of the '90s) is giving the product a whole new reputation with the Jane Cosmetics Multi-Colored Correcting Powder ($12, janecosmetics.com).
The mattifying powder is so light it makes you rethink the "no powder in the summer" rule. Sweeping the four colors along the face with a brush evens out the skin tone with little to no concentration. Here's a breakdown: The peach and pink hues brighten without adding flush, the minty green reduces redness, and the purple highlights yellow undertones. The skin is left soft, even and with little shine.
In the sticky summer months, bring back the tried-and-true powder refresh. Dab the face with some sunscreen and swipe on the powder for a look appropriate for the office and the beach. No foundation necessary.