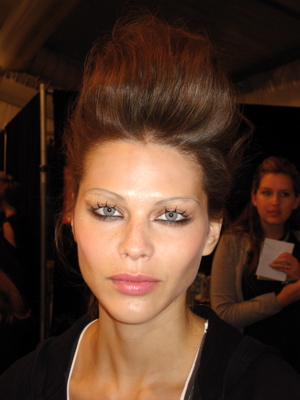 The final makeup look.
It was a back to the future moment backstage at Tracy Reese where Global Makeup Artist for Maybelline New York, Charlotte Willer, created a modernized 20's look on the models.
The heart of this decade juxtaposition was the eyes. Willer started off by using concealer on top of model's brows to mute them out, then took Define-A-Brow Brow Pencil to draw a hard line along the top line of the brow. This was the 20's aspect of the face.
To add a modern edge, Willer used a smear of clear lip gloss on the lids, extending to just under the brow. She then used the darkest shadows from the gray and brown Eye Studio palettes (launching in January) and layered them heavily underneath the lashline to create a shimmery, inverted smoky eye in a charcoal bronze hue. She created a spiky false eyelash effect by applying Pulse Perfection by Define-A-Lash Vibrating Mascara liberally on the lashes, the used the tip of the wand to clump lashes together in sections.
On the face she used a touch of Mineral Power Naturally Luminous Blush in Fresh Plum on the apples, then applied Mineral Power Illuminator in Pink on the cheekbones to give a bit of a glow.
Lips were also done in a pink tone, with Willer using Color Sensational Lipcolor in Make Me Pink on the middle of lips and then blending it out to create a soft and pretty pout that offset the edgy eye effect.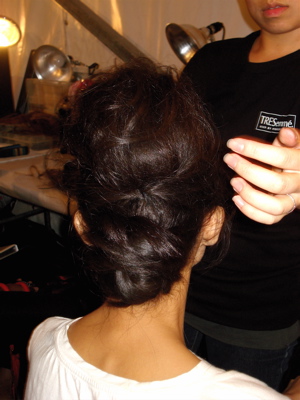 The layered buns in the back.
Tresemm lead stylist Jeanie Syfu created a pompadour that was both messy and highly structured. "There are a lot of layers in the collection and we thought it would be cool to design a hairstyle that had a bit of layering," said Syfu.
First she applied 24 Hour Body Foaming Mousse to hair and divided it into three sections — one horseshoe-shaped section at the crown and two on the sides. She put the top section into a ponytail at the top, then pulled the side sections into another ponytail and then made a third ponytail with the remaining hair just below that. Each ponytail was teased, then curled with a 1-inch curling iron to create texture.
After hair was curled it was brushed out and then Syfu took the front horseshoe piece and teased it to create the volume and height needed for the pompadour. She swooped the hair back into a rockabilly pouf and pinned it in place, then took the two back ponytails, gathered them together and wrapped them around to create a loose, layered bun. She sprayed the whole thing with 24 Hour Body Finishing Spray to hold it all in place. "It's super piecey and undone looking with a disheveled texture, but it also has a little hidden structure in it," said Syfu.