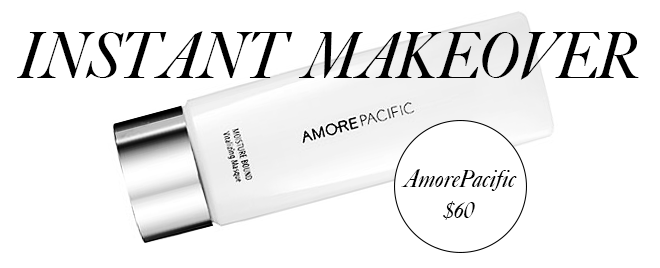 Occasionally we come across a product that bestows an immediate glow, changing our look (for the better!) in an instant. Since we'd be remiss to keep them to ourselves, we highlight these genius finds in our Instant Makeover series.
Not many skincare products can change your complexion overnight. Most lotions and potions need at least six weeks to start producing results, if they ever end up doing what they promise at all. But the Moisture Bound Vitalizing Masque ($60, sephora.com) from luxe skincare line AmorePacific is the real deal. Though it's called a masque, the texture is more like a slightly sticky gel, and it's meant to be worn overnight (nope, it doesn't leave a residue on your pillow). A light layer of the mask seals in moisture and creates a barrier that lets the hydrating antioxidant complex have its way with your parched skin. When I tried it myself, the dry patches that plague my complexion all winter were completely gone the next morning — pretty amazing stuff. And it's a great alternative to heavy, greasy creams for those with combination skin (like me).
What's your go-to product to treat dry skin?