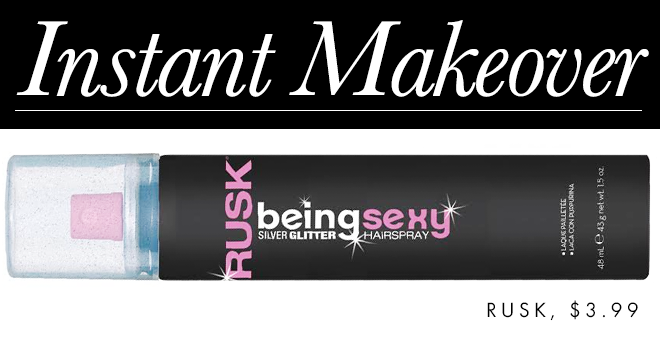 Occasionally we come across a product that bestows an immediate glow, changing our look (for the better!) in an instant. Since we'd be remiss to keep them to ourselves, we highlight these genius finds in our Instant Makeover series.
I'm taking full advantage of the holiday season in wearing as much glitter and sparkle as I can until January 1st, when it will once again be perceived as "over the top." In addition to a glitter manicure and a sequined dress, I'm taking things to the next level with a little silver shimmer in my hair.
Now, I'm not exactly big on adding unnatural-looking color to my hair. While colorful hair may look cool on some—our Beauty Director is currently rocking lavender hair and it looks chic, not cartoonish—it comes off looking immature or worse on me. That said, Rusk's Being Sexy Silver Glitter Hairspray ($3.99, rusk1.com) is delightfully subtle.
Just like any other hairspray, the product offers a nice bit of hold, adds a touch of texture and, of course, paints on  a soft wave of silver shimmer. The shimmer glistens in the light but doesn't look at all gray or white. It's like tinsel for your hair … without having to worry that you're doing permanent damage to your locks.
Read more: 5 Reasons Why This Gold Pomade is Our Holiday Hair (& Makeup) Go-To