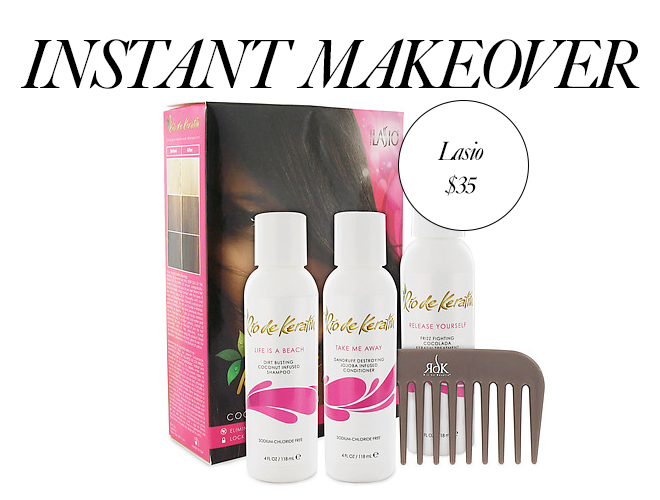 Occasionally we come across a product that bestows an immediate glow, changing our look (for the better!) in an instant. Since we'd be remiss to keep them to ourselves, we highlight these genius finds in our Instant Makeover series.
It's that time of year when, no matter how hard we try to fight it, frizzy hair just won't stay away. The only tried and true answer to our frizzy day blues is a salon keratin treatment. However, not all of us can cough up $300 or more for a temporary fix (most last about three months). That's why we were excited to see how Lasio Studio's Río de Keratin ($35, lasioinc.com), an at-home keratin hair treatment, would perform. We enlisted our tester Christine (who uses a flat iron every day!) to test the product on her thick, wavy hair. Here's how the four step, 90-minute process went.
After washing her hair, Christine sprayed the treatment (which comes in an easy-to-use spray bottle) all over her hair. Each bottle contains enough product for two treatments, so be generous, but use sparingly. Next, she blow dried and then straightened her hair with a flat iron. She noticed her hair was more manageable instantly. "It definitely straightened more easily," she told us. Her one warning during application: the spray is strong. "It made my eyes burn a bit ,and if its get on your skin it hurts." Oh, what we do for beauty.
After waiting 24 hours to wash her hair (the kit comes with a coconut infused shampoo and jojoba infused conditioner), she found her hair was easier to blow dry. "It definitely wasn't pin straight, but more relaxed. Straightening took less time as well." Other results: strands are shinier and look healthier.
While straightening and drying time is shorter — Christine's was cut in half — don't think of this as the answer to Jennifer Aniston pin-straight hair. The keratin proteins smooth out the hair cuticle but you won't have the same results as a salon treatment. A little bit of effort (i.e. a flat iron) on humid days will still be required.
Read more: Does Your Hair Need Sunscreen?