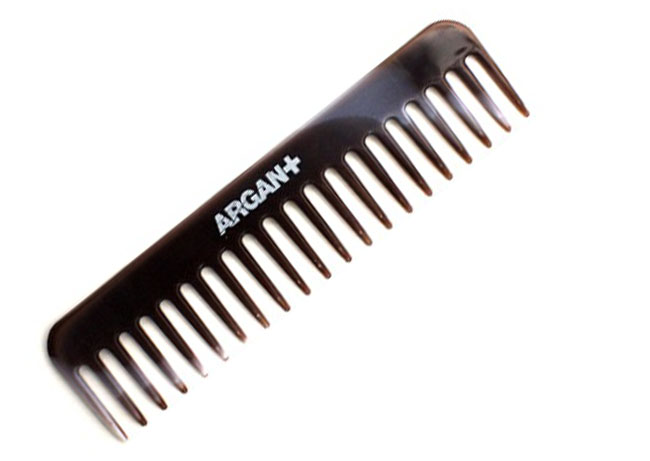 Occasionally we come across a product that bestows an immediate glow, changing our look (for the better!) in an instant. Since we'd be remiss to keep them to ourselves, we highlight these genius finds in our Instant Makeover series.
During my 10-minute walk from the subway to the office, my hair becomes a tangled and static mess from the dry, blustery wind. Luckily for me, I have a beauty closet waiting for me with all the fixings for my out-of-control strands. But if you don't have a ridiculous amount of beauty products stashed at the office, I have a find for you — the Rickycare ArganPlus Extra Wide Comb ($3.99, rickysnyc.com).
This wide-toothed comb completes the obvious task of brushing out tangles, but the plastic it's made from is also infused with argan oil. So each time you brush through, the oil is distributed evenly throughout the hair to eliminate static and flyaways. I'm always a little wary of using oil on my hair because if I apply too much, my hair gets really greasy. But with this comb, it's hard to go overboard.
What products do you use to fight your winter hair woes? (Check out some of our other problem solvers here.)