If you're a millennial woman and you wear makeup (read: you there, reading this article!) you need to see the latest study to come from Lab42. According to research, 61% of women surveyed started wearing makeup between the ages of 13 and 15, 47% of women lose at least 3 tubes of lip gloss a year, and 58% of women buy different cosmetics for summer and winter months. Call us crazy, but sometimes we get so caught up in hair and makeup that we forget about the poor little tubes of lip gloss we lost (R.I.P. Electric Shock) or the fact that we've been spending cash on a lightweight moisturizer for summer and a heavy cream for winter.
After taking a look at the eye-opening statistics that not only apply to us, but also to all of you, we knew we had to share the infographic below. Take a look at the Female Millennials' Makeup Habits below (click for an enlarged view) and tell us which percentage you fall into in the comments!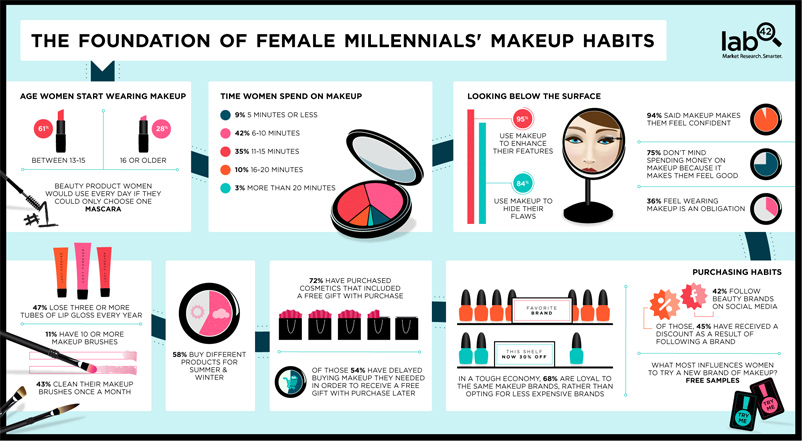 More Infographics From Beauty High:
5 Infographics on How to Make Your Hair Grow Faster
Infographic: How Women Really Feel About Beauty Trends
Infographic: What's Really In Your Beauty Products?
[Lab42]