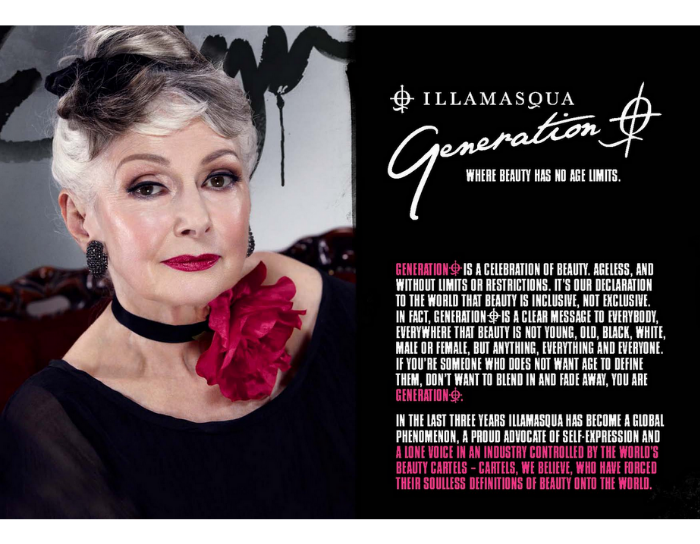 Lately more than ever, the beauty industry seems to be searching for validation for beauty at any age. Between the Botox, lip injections and plastic surgeries working hard to make sure that no one over 40 will ever show wrinkles (or emotions), signs of aging send women scrambling for anti-aging creams and schedules for local face yoga classes. Beauty companies and models have been making strides to change the negative viewpoint of age, and the Beauty At Any Age Movement is gaining some traction.
Illamasqua, the UK-based beauty company known for pushing limits and going into uncharted beauty territory, just released their latest ad campaign that follow's the company's brave and rebellious nature. Featuring Evelyn, a model in her 70s wearing makeup traditionally worn by a 20-something, Illamasqua's Generation Q ad throws caution to the age-appropriate-makeup-laiden wind and breaks the spoken and unspoken rules of what's considered beautiful at a certain age.
As we mentioned earlier, this campaign isn't the only thing testing the age of beauty lately. About Face, the latest documentary from HBO, deals with the aging of supermodels and how they navigate the waters of beauty after the world's definition of "prime age." The stigmas about women being beautiful past a certain age may not be changing quickly, but they're certainly being challenged. While we're excited to see that Illamasqua's new campaign is working to change the minds of the beauty world, we're wondering if the age of the model will deter younger customers to buy Generation Q products. Regardless, we can totally get behind women feeling beautiful at any age.
[Allure]
Will you buy Generation Q products? Tell us in the comment section below!