I think it's important for everyone to know that right now I am sitting on my couch, catching up on Mad Men, drinking tea, with coconut oil slathered in my hair.
You're jealous of my rip-roaring Thursday night, aren't you? I know — It's wild.
You're probably wondering why I have coconut oil in my hair. Well, my friend Larry who put me on Jojoba Oil a few months ago got me on the coconut oil in August when I was visiting her on Nantucket.
"Put it on dry hair, and when you wash it out, your hair will be so shiny you'll die."
My hair has been so bleached and damaged that I'll try anything to make it shiny. If you told me to slather beet juice on my head I'd do it. And I hate beets.
Yesterday I came across coconut oil in the ethnic hair department of Duane Reade on 58th and Madison. Eboline Coconut Oil "helps to prevent breakage of ends and promotes a natural sheen." All for $3.95.
Alright!
Bird's eye view of my hair slathered in the coconut oil. Just a heads up, the directions state to use sparingly. I did not.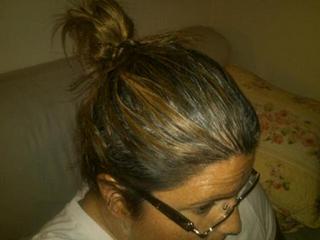 Please excuse the gray hair. All will be taken care of tomorrow when I see my genius, Amram, at Bumble & Bumble.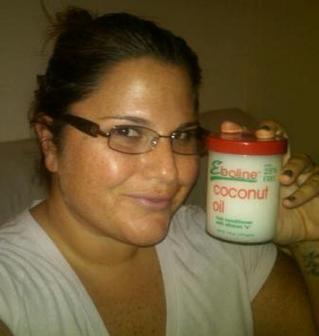 I'll keep you all posted about my results!