Hyaluronic acid, a sugar molecule that is naturally found in the body — in the skin, joints and connective tissues — has become a staple in skincare and cosmetics products, and most recently in haircare, too. The ingredient smooths and softens the skin and hair follicles as it draws moisture from the air, holding up to 1,000 times its weight in water. Because it also plumps the skin, it is a key component in many injectable wrinkle fillers. It's like a one-stop shop for hydrated skin and hair.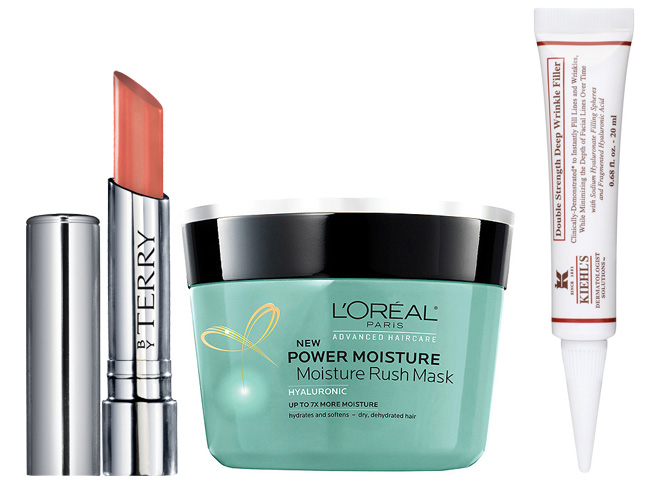 Want to try it yourself? Check out some of our favorites with the ingredient:
By Terry Hyaluronic Sheer Rouge Hydra-Balm ($35, barneys.com)
This glossy balm has the perfect combination of rich color and protection. The hyaluronic acid creates a soft creamy texture, moisturizing and smoothing the lips. But what really sets it apart is how the acid make lips look fuller.
L'Oréal Paris Power Moisture Rush Mask ($6.99, lorealparisusa.com)
Part of the L'Oreal Power Moisture line (the first hair line formulated with hyaluronic acid), the mask hydrates each strand by working with the steam of the shower to penetrate the hair follicles even deeper. Apply to wet hair for three minutes and rinse with cool water.
Kiehl's Double Strength Deep Wrinkle Filler ($39, kiehls.com)
The hyaluronic acid in this anti-ager binds with moisture below the surface of skin to temporarily plump and smooth out wrinkles. Apply the cream anywhere on the face – the forehead, laugh lines, crows feet — where you want to eliminate the appearance of fine lines.