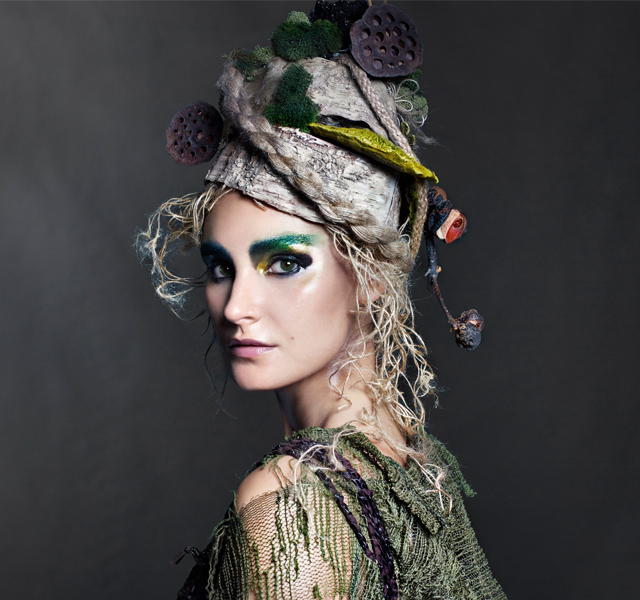 It seems as if a lifetime has passed since we first laid our eyes on the beginning of "The Hunger Games" trilogy that would capture all of our hearts (and quickly become a bit of an obsession). As we count down the days until the release of "Catching Fire," we were thrilled to learn that COVERGIRL teamed up with the film to not only create a limited edition beauty collection, but to also unveil 12 iconic looks to represent each of the districts. We were given the opportunity to exclusively reveal to you the Lumber district (district 7), and makeup artist Dotti, COVERGIRL's "Capitol" makeup artist, created this capitol-couture look for the district that specializes in lumber (obviously!) and is known for its lush forests.
Dotti told us, "The focus of this look is definitely about the eye. It's actually okay to wear black and brown together – it's all about blending and layering, and layering more, and adding pops of impactful colors like golds, yellows and greens. It's all about taking the elegance and the earthiness into the Capitol."
To get this look, she traced the eye with LiquilineBlast in Black Fire and then layered two shadow pots, in Lime Light and Turquoise Glow blended over the eyelid. Dotti then added a gold shadow into the inner corners of the eye for an extra hint of color. For the full how to on the look, watch the video below!
To explore the rest of the Capitol Couture beauty looks, check out the Capitol Beauty Studio to go behind the scenes of all of the 12 district looks as they are unveiled, with full face charts on the looks as well as how to videos to see how they were created. Plus, you can try on all of the Capitol Couture looks on yourself in COVERGIRL's FabLab, so find out which district you would look best in!
Courtesy Image