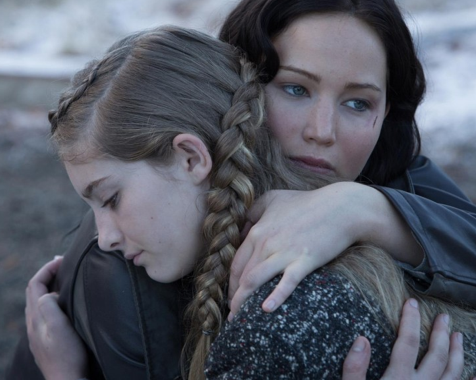 We can't help but be super-pumped to see the new "The Hunger Games: Catching Fire" movie, and what better way to celebrate then recreating Prim's amazing wrap around braid! This braid is so unique and versatile, everyone will be wanting to know how you did it. Luckily, we are here to give you the play-by-play of how to achieve this braid in no time, so you can even wear it to the theater. Follow along and let us know how your Catching Fire-inspired braid comes out in the comments below!
Start off with dirty hair. This will allow for the braid to be able to stay in place longer and not have so many flyaway hairs when the braid is completed.
Section hair into a deep side part, allowing each side to have a good amount of hair.
Go to the crown of your head and begin to start a simple and small French braid.
Bring the braid down along the side of your head and then begin to trace further along the side of your head, picking up more and more hair as you go (simply gather thicker sections) to continue the braid.
Once you get past the ear, begin to bring the braid around your neck and make sure to continue picking up more and more hair.
Then, direct the braid towards the other ear and braid the now full braid downwards.
Secure with an elastic and spray with hairspray to secure everything into place and you are set!
More From Beauty High:
Exclusive: New Hunger Games Look Revealed, Plus Video to See How It Was Made!
4 Hairstyles You Need to See From 'The Hunger Games: Catching Fire' Trailer
CoverGirl Partnering With 'The Hunger Games: Catching Fire'