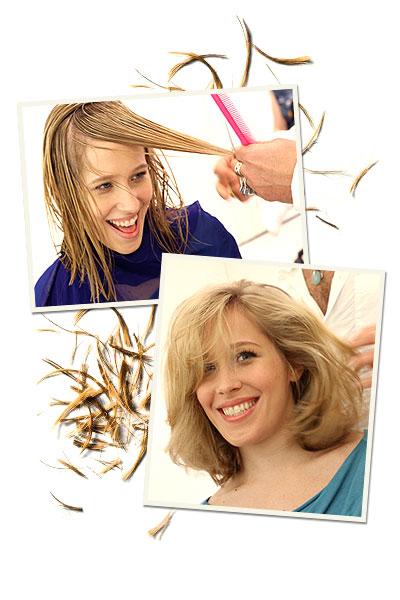 Finding someone you can trust with your hair is challenging–what woman hasn't had a hair trauma that resulted from a stylist who didn't understand their hair? The best way to guarantee you get the haircut you want is to be prepared: Knowing the right questions to ask will take the guesswork out of the process.
With that in mind I polled a panel of top hair experts (Redken brand ambassador Rodney Cutler, Tresemmé celebrity stylist Jeanie Syfu, Pantene celebrity stylist Tippi Shorter and Caile Noble, stylist at the Serge Normant at John Frieda Salon), then took their advice and tried it myself. Here's what they had to say:
Finding A SalonFour out of four top stylists agree: The best way to find a salon is to simply ask someone with great hair where they get their's done. I spotted a woman at my local dog run who was rocking a cool piece-y 'do and she was more than happy to gush to me about Woodley & Bunny, the cool Williamsburg salon where she got it.
Choosing A StylistOnce you've found your salon, you need to navigate their roster of stylists. If you depend on the receptionist to choose for you, keep in mind that they will most likely direct you to the stylist who has the most free time or the least amount of experience. Cutler recommends asking leading questions, i.e. "What is their specialty" or "what kind of hair texture do they normally work with," to help narrow down the field.Many salons offer a free consultation, something all four stylists say you absolutely should request. "When you talk over the phone, the stylist has no idea what kind of hair texture you have. They need to see you in person," says Syfu. When I called Woodley & Bunny, the receptionist asked me my budget and then listed off a few names. After learning each of their specialties, I chose Sasha and asked to come in for a consultation.
The ConsultationWhen you arrive for your consultation, be sure to bring pictures with you of hairstyles you love. They may not be exactly what you will get, but they will give the stylist an idea of what kind of hair you see yourself with. Shorter also recommends bringing a few photos of hairstyles you don't like, so the stylist can have a clearer picture of what it is that you don't want. I browsed through some celebrity hairstyles and found a few pictures of textured, short hairstyles that I liked and sleek, flat bobs that I didn't like to make sure Sasha and I were on the same page.
Making The CutWhen it comes time to actually make the cut the most important thing is to make sure you are comfortable with what's happening. Has the stylist explained the cut to you? Have they spent time getting to know you and your styling expectations? If at any point you feel uncomfortable with how the cut is shaping up, Noble advises you to speak up immediately. "It's better to speak up midway through the cut than wait until the end when there's no way to fix it," he says. A good stylist will listen to your concerns and either explain the cut to you more precisely, or change their approach to suit you.
I walked out of Woodley & Bunny rocking a new, shorter 'do that I absolutely loved. Thanks to the advice and hairstyling tips from my pro panel, I was also able to better understand what I wanted and what to provide my stylist with in order to help her create the perfect hairstyle for me. So the next time you head out for a haircut, arm yourself with these simple tips to ensure you get a look you love.
As one of the web's largest beauty sites, DailyMakeover.com constantly receives products from beauty companies for editorial review. Please read our Editorial Ethics Pledge if you'd like to know how we select products to feature.