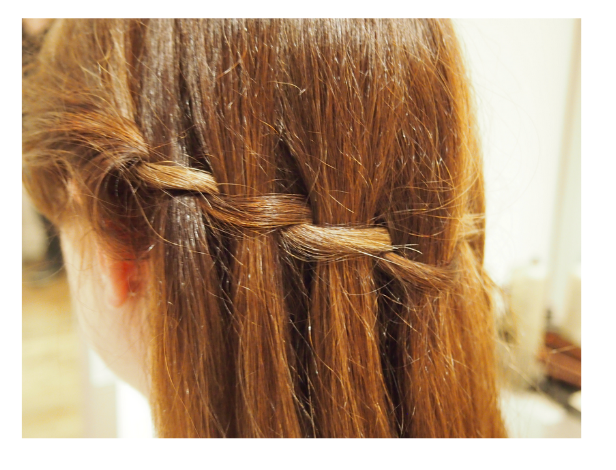 Braids have been our favorite hair accessory these days, and our Pinterest has been inundated with lust-worthy styles from the fishtail to the milkmaid. Lately, though, our obsession has been the waterfall braid, which looks simple but is just about impossible to execute. We sat down with Kevin Mancuso, Nexxus Creative Director, to learn how to get the style that everyone's coveting as of late.
First and foremost, this braid is perfect for a girls' night or some best friend time, because doing it on yourself can be quite tricky. Try to avoid attempting the waterfall with clean hair (or hair with serum in it, because this style is much more difficult when hair is slippery). Apply Nexxus Pro-Mend Split End Binding Bodifying Mousse to your hair before you start to begin braiding with a good texture. Most of the pictures we see of the waterfall braid are in thick hair that is all one length, but  many of us have layers and different hair textures. Here are Kevin's tips for a waterfall braid on layered, thinner hair.
Step 1: Begin by grabbing pieces just above your ear and separate into three sections, the way you would normally go about French braiding your hair. Start braiding as normal for one set (each piece crosses over once).
Step 2: Drop out one piece from the braid (note: for layered hair, the piece that you drop out should come from the top, but also leave a larger piece on the bottom – this will help the waterfall to look much cleaner) and pick up a new piece to continue braiding. The "dropped out" piece is how the waterfall effect happens as the braid goes on. Holding the drop out piece away from the rest of the braid is where your best friend will come in handy.
Step 3: Continue to drop out one piece in every other set, picking up a new piece as you go. Repeat this until the braid is off of your head. Once this happens, finish it as a classic braid, and either pin or elastic the hair to finish the look.
Step 4: Once the braid is complete, apply Nexxus Pro-Mend Bodifying Mousse only to the drop out pieces. This defines them and will give the waterfall effect a greater impact.
For fine hair, keep the braid loose. If you have less hair, there is less to braid, so the final product will have more of an impact if it's loose.
Have you tried the waterfall braid? Send us a picture on Twitter or Instagram to @BeautyHigh!