Loose eye shadow can be daunting to some and fun for others. One thing is for sure; however, it can intensify your eyes in a flash. I love using loose pigments to play up the eyes for a sexy evening look or to add a quick sparkle to a chic daytime look. They come in all hues, and when applied with a light hand can look magical.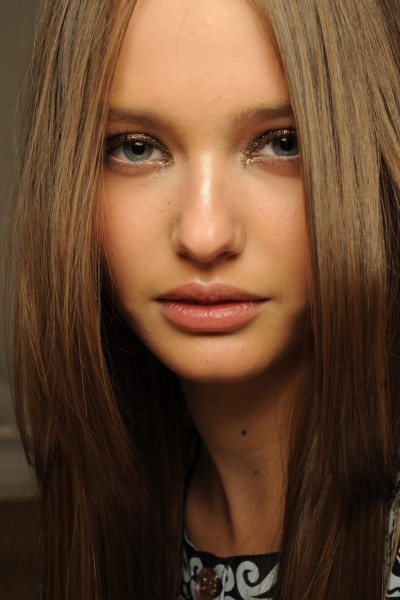 Photo: © Luca Cannonieri
Apply jewel-toned pigments to the lids in purple, jade green or blue for an intense look at night. Sweep it across the lids with a natural haired brush and use an angle brush to blend beneath the lower lash line. Apply a highlighter under the brows and use black liner and mascara to finish them off. Try MAC Pure Pigment in colors like Violet, Teal and Corn Flower to make eyes look electric. Pair the pigments with a nude cheek and lip to create an amazing makeup look that's hot but not over the top.
For a modern metallic eye, try one of the glimmering Metal Powders from Make Up Forever. Their gold collection can play up eyes in a gilded glow that works beautifully with a black liquid liner and peachy cheeks and lips.
If you want to simply use pigments as a highlight, I suggest the inexpensive La Femme Sparkle Dust Powders in #1, 5, 9, 14 or 21. Use these to Carmindize the face by applying them under the brow, on the inside corners of the eyes and on top of the cheekbones. I love applying the Stila #15 brows to the eyes and Benefit's Fantail Brush on top of the cheekbones.
A quick way to jazz up your regular daytime eyeshadow is to add a dab of loose shimmer pigment in a wearable daytime hue on the center of the lids. Try L'Oreal HIP Shocking Shadow Pigments in Tenacious or Intrepid or Alima Pure Luminous Shimmer Eyeshadow in Paris and use a Q-Tip to lightly layer it right over your normal shadow. Don't be afraid to sweep on a loose pigment to bring a little excitement into your makeup routine.

Try on eye pigments in the Makeover Studio!
As an established makeup artist, many beauty brands send me samples of their latest products for consideration. I only write about the items that I truly love and I always abide by Daily Makeover's Editorial Ethics Pledge in each of my Positively Beautiful posts.