Flawless skin is the foundation of any beauty look, but more often than not, those pesky facts of nature such as dark circles and unsightly blemishes can really get in the way. To help us figure out how to put our best face forward, we tapped the expertise of celebrity makeup artist Katey Denno. So grab your makeup bag and read on to learn how to use concealer to cover up (almost) anything.
How To Use Concealer On A Pimple
The dreaded breakout is one of the most difficult imperfections to conceal. Denno advises first applying a dab of natural treatment such as tea tree oil or apple cider vinegar, which can immediately shrink certain types of breakouts. If neither are within reach, any product with salicylic acid should also help do the trick. Make sure you apply the treatment about fifteen minutes before starting on your makeup.
Then, begin concealing by applying a foundation that's an exact match to your skin tone on the area surrounding the blemish. This step is crucial, Denno explains, because the texture of bare skin around the concealed spot will only serve to highlight the blemish. Once you've applied foundation, use a fine point concealer brush to apply a concealer that matches your skin tone exactly on and around the spot and blend by lightly tapping with your finger. Finally, if your pimple is already flaring, set the area with a little translucent powder to build up the skin around the blemish.
"Concealers with a green tint to them are fabled to work to neutralize the redness of a blemish," says Denno. "However, this works in only photographs, but in natural light, for work or outside, the green is always visible and only makes the blemish look more obvious."
Try: Makeup Forever HD Invisible Cover Foundation ($42, sephora.com); Benefit Fake Up Concealer ($24, sephora.com); Laura Mercier Loose Setting Powder ($35, lauramercier.com).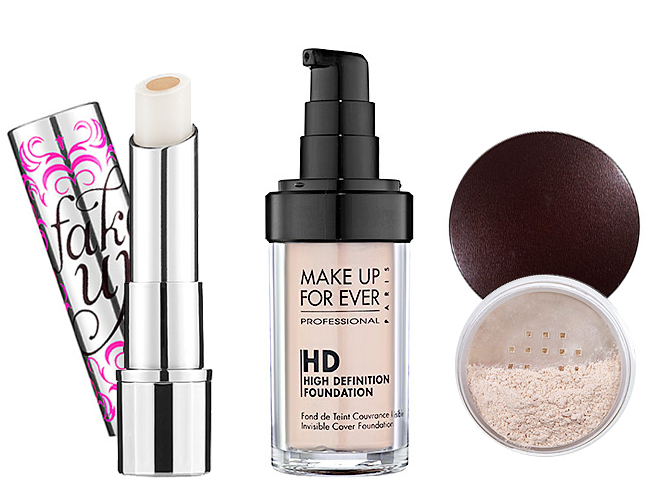 How To Use Concealer On Dark Under Eye Circles
"Circles under the eye are generally purple in nature," says Denno. "For Caucasian, Latina, and most Asian women, using a peach toned concealer will combat them the best." Start with moisturized skin and apply concealer either with your ring finger or a flat brush, starting in the inner corner of the eye. Be careful not to take concealer too close to the outer corner as it will settle into fine lines.
"For women of deep skin tones with dark purple or brown circles under the eye, using an orange pigment — like one from a pro makeup store — can actually completely neutralize the dark circle, and when topped with a concealer the same color as the skin tone, the area will look bright and flawless."
Try: Nars Radiant Creamy Concealer in Honey ($28, narscosmetics.com); MAC Pigment in Acid Orange ($21, maccosmetics.com).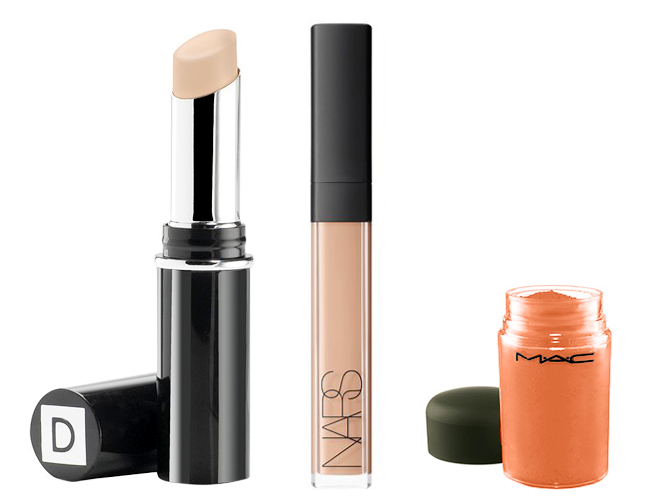 How To Use Concealer On A Scar
Scars can be tricky because they come in different colors: some are red, some purple, and some brown, says Denno. "The majority of the time I'll use a heavy concealer that's the same color as the skin tone. However, if the scars are so dark, I have to use a color opposite the color wheel to neutralize them, and then cover with the corresponding skin tone concealer shade."
Try: Dermablend Quick-Fix Concealer ($24, dermablend.com)
How To Conceal Redness and Uneven Skintone
"Redness can usually be erased using a light foundation," advises Denno. "Simply apply and blend with a brush and finish with a damp beauty blender." Another option to try is a CC Cream, some which are specifically designed to color correct for redness and discolorations.
Try: LORAC CC Color Correcting Cream ($28, sephora.com); Sephora The Sculptor Makeup Sponge ($12, sephora.com).
Read more: 5 MacGyver Tips For Concealer