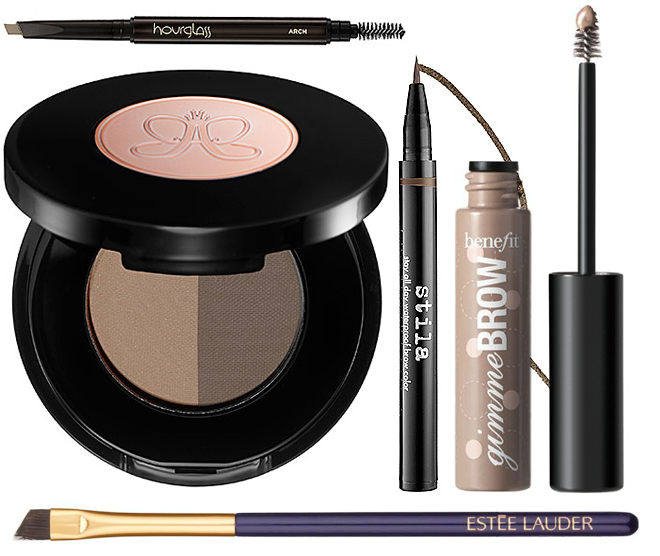 It doesn't matter whether your brows are blonde or black, thick or thin—there's a brow product out there for you. Even if you don't want to add color or go the bold, statement-making brow route, there are products that offer hold, volume, definition, and more. Don't know where to start, or just wondering how to use the brow product that sounded like a great idea in the store but makes no sense in front of the mirror at home? We've got you covered.
Clear Gel
You can use a clear gel alone to hold brows in place or layered with other brow products to both set color and add hold. If your brows are full and don't need much filling in, a clear gel may be all you need—just brush brows upward and outward into their best shape. For non-sticky control and a polished result, try MAKE UP FOR EVER Brow Seal Transparent Eyebrow Gel ($18, sephora.com).
Tinted Gel
Like clear gel, the use of a tinted gel alone is best for those whose brows don't need much filling in, but it can also be used on top of more pigmented products for hold. The water-resistant Benefit Cosmetics Gimme Brow ($22, benefitcosmetics.com) is our favorite because its tiny brush makes for targeted application.
Pencil
A pencil with a slanted tip is great for brow-filling beginners because it's easy to use and offers good control when you're depositing color. Hourglass Arch Brow Sculpting Pencil ($32, sephora.com) has a powder-like finish with a soft, waxy hold and incorporates a built-in brush on the opposite end. Use light but firm strokes to "sketch" in sparse areas, then use a spoolie brush to blend for a soft, natural look.
Marker
Felt-tipped brow markers are often softly pigmented to avoid the look of brows that have been applied with Sharpie, so they're best for those who just want to fill in sparseness or add volume rather than reshape the brow. Liquid formulas dry quickly, so be sure to blend with a spoolie immediately after application for the most natural look. Stila Stay All Day Waterproof Brow Color ($21, stilacosmetics.com) is our pick—it's waterproof, and the three shades easily adapt to different hair colors and skin tones.
Powder
For a brow devotee, powder is the way to go. The application process is a touch more involved (you'll have to use an angled brow brush) than other swipe-and-go brow products, but it allows for the boldest, most defined effect while still looking natural. Anastasia Beverly Hills Brow Powder Duo ($23, sephora.com) is highly pigmented, so you don't need much to fill in gaps or enhance arches.
Wax
Waxes and pomades can be found in both colorless and tinted iterations. Like gels, you can use them over other products to keep brows in place, or on their own to define and give long-lasting hold. Smashbox Brow Tech Wax ($20, smashbox.com) tames unruly brows for a sleek, groomed appearance—use an angled brush to apply the product to hairs, then brush into place with a spoolie.
Read more: Get Fuller Brows With These Tips