So many celebrities have been opting for bangs lately, from Kim Kardashian to Marion Cotillard. And why not? Bangs are chic and playful. Plus, if it brings us just a step closer to Jessica Biel's hair perfection, we're in. However, before taking the plunge with this cut, you need to decide if you're willing to commit to its high-maintenance routine — like bi-weekly bang trims. If you're not one to head to the salon that often, perfect your technique at home with these tips on how to trim bangs from Sexy Hair Master Artist Kelly Bileddo.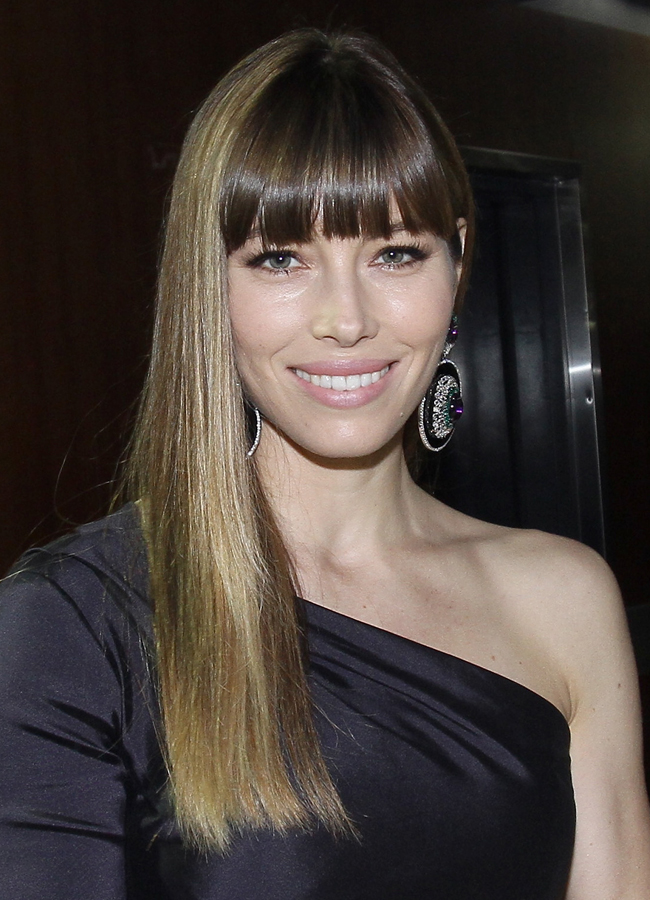 If you plan on trimming your bangs often, Bileddo suggests investing in a good pair of hair cutting shears for a more precise cut. Our favorite pair is Tweezerman Styling Scissors ($28, rickysnyc.com) which are sharp enough for a reliable cut, but are also bigger than most so it offers a comfortable hold for fingers. You should also have a thin comb handy.
Now decide if you want to start with your fringe wet or dry. "Do keep in mind that when the hair is wet, it will slightly shrink up when it dries. Cut the length at least ¼-inch longer than your desired length." Cutting dry will result in a more accurate cut, but wet can be easier if your hair texture isn't perfectly straight.
Bileddo's Step-By-Step Instructions
Step 1: Start by styling your bangs the way you normally do. Then pull the rest of your hair back.
Step 2: Comb your bangs straight down and gather them at the center of your forehead, parallel to your nose. "Then place the hair in between your forefinger and your middle finger creating tension and grip on the hair," says Bileddo. "Having control of the hair is important so the fringe will remain symmetrical."
Step 3: "While holding the section of hair, pull your fingers down to the center of your eye. Place the shears under your fingers and cut straight across." Continue to cut in small increments of hair, starting at the center and moving outward. This will create a more natural finish.
If you want a textured look (think Taylor Swift's choppier blunt bangs), Bileddo suggests cutting into the bang vertically after getting your desired length with the horizontal trim explained above. 

Read more: Why You Should Never Cut Your Hair Wet