In our new Q&A series, beauty experts address your most bewildering issues. Have a beauty-related quandary of your own? Submit your question in the comments below, via our Facebook page, or on Twitter.
Q: My T-zone gets oily throughout the day, but when I wash my face, my skin feels dried out and I tend to get flakes around my nose and lips. I've tried so many different cleansing and moisturizing routines. How do I find the best way balance out my combination skin?
The pro: Natural skincare expert Suki Kramer is president, founder and formulator of synthetic-free cosmeceutical skin care line Suki.
Her expert take: Boy, do we get this question a lot! Products that really harmonize combination to oily and dry skin conditions are virtually unheard of; it usually takes a combination of treatments, diligence and knowing your skin, how it will change over time, and adapting to each new development to create a balanced complexion. Here is a fairly easy regimen to combat dueling skin combinations.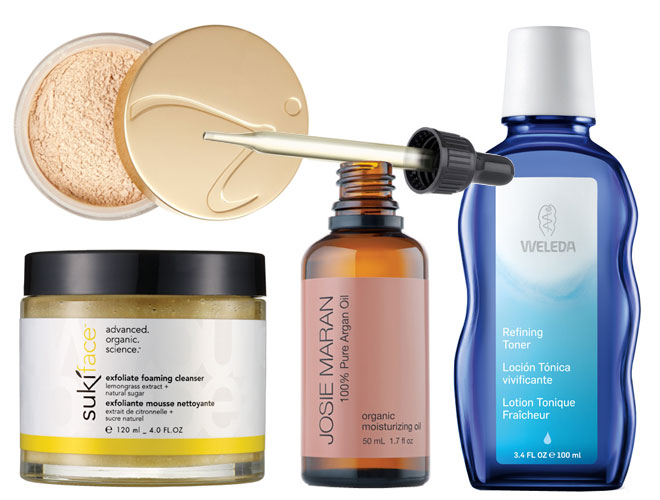 1. Exfoliate! Manage oil production, clear pores and remove the drier, flaky skin at the same time with one product. If you are irritated or red, you may use a natural "chemical" exfoliate like a peel; if not, use a manual exfoliate gently and often. Exfoliation helps with cell turnover and leaves skin fresh, new and glowing. Try a 2-in-1 product like Suki Exfoliate Foaming Cleanser ($32.95, sukiskincare.com), which provides gentle exfoliation from sugar and rice flour and melts away to a luxurious foam for cleansing. The foaming cleanser can be used in the morning and the exfoliator is great in the evening to remove makeup and the day's buildup.
2. Use a concentrated toner. Remember Sea Breeze? Benzoyl peroxide? These products do us no favors — they dry out the skin. Instead, find a real toner (not just a botanical water) with solid science behind it that contains skin anti-inflammatory agents, vitamin C and soothing ingredients that work to provide nourishment to oily and dry skin alike. Weleda's Refining Toner ($17, usa.weleda.com) with iris root extract regulates moisture balance at the visible surface of your skin while providing vital nutrients like rose and vitamin C.
3. Embrace oils. For combination skin in particular, but really for all, it's so important to moisturize with high-end pure botanical facial oils. Be not afraid! Our skin is composed of oils, and to balance oil production properly, we need high-quality oils formulated correctly and used properly. If we avoid oil and use "oil-free" products, our skin will overproduce oil in response, creating blemishes and breakouts. The body is in a constant fight for balance. Josie Maran 100% Argan Oil ($48, josiemarancosmetics.com) provides moisture with vitamin E and essential fatty acids.
4. Use an all-natural mineral makeup, which will keep parched skin and oily skin in perfect harmony…I prefer lotion based makeups, creams for dry skin and powders for oily, but make sure to read the label and avoid those with bismuth oxychloride which is the most oft-hidden toxin in mineral makeups. Try Jane Iredale's Amazing Matte Powder ($31, dermstore.com) for a shine-free look.
Finally, diligence in treating the different areas of your skin exactly as they are is key. If you have drier skin only in certain areas, use a richer cream on top of your normal regimen, but don't go spreading it all over! Combination skin takes a little extra effort. Stick to one regimen for at least three months and try to be patient while your skin responds – even through a detox phase. As the weeks pass you'll begin to see less flaking, tight skin and a more balanced t-zone by evening.
Have you had luck with a regimen for combination skin?
Read more: Natural Beauty Tips Every Girl Should Know