Makeup artist Victoria Stiles has had a long and exciting career in the beauty world. She started in the industry in 1999, working with MAC cosmetics, where she had the chance to create amazing stage makeup for artists like Cher and Missy Elliott. In 2004 she branched out on her own, creating a reputation for herself as a go-to beauty expert. Her work has appeared in national magazines like Real Simple and Women's Health. Follow Victoria on Twitter to learn more of her cool tips and tricks.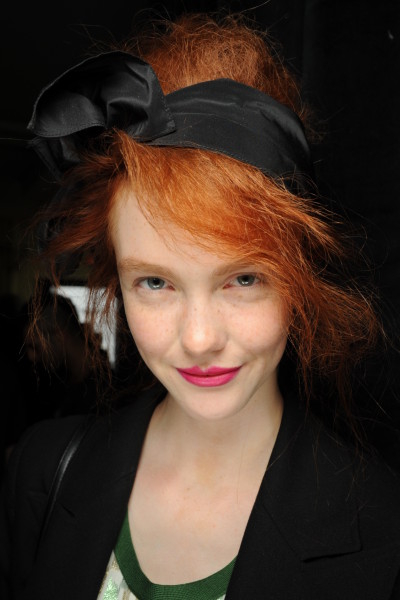 Photo: © Luca Cannionieri
There's no question about it, bright lips instantly exude sex appeal and self-confidence. Bright lips are the first thing to enter a room, and the last to leave on the arm of a handsome man.
Bright lips can be intimidating, but if you follow these simple steps, you can easily create a bombshell lip that will last the night away–and the morning after!
Be bold and choose a color that is matte in texture. Matte lasts longer than satin, cream, frost, or shimmer formulas. One of my all time favorite red shades is MAC's Ruby Woo Lipstick. If you are nervous about wearing red, this may be a great choice because it has a subtle pink undertone. For warmer skin tones, try a shade with a slight orange undertone such as Nars' Heat Wave.
Instead of using a traditional lip brush, stain lips with your choice of color by applying the lipstick with your fingertip. Simply rub the top of your index finger on the color and press into the heart and pout area of your lip, avoid a sweeping motion.
To ensure your lip color lasts, avoid placing gloss on top. Gloss makes it easier for the lipstick to transfer on to your wine glass, or your date.
If a straight stain is what you seek, try CoverGirl's Outlast Lipstain. It's not your traditional lipstick as it looks and operates more like a magic marker, making it very easy to use. Simply apply one coat to your lips for a softer appearance or two for a bolder look. When applying two coats, be sure to let the first coat dry completely before applying the second.
Try these techniques the next time you have a big event and pucker up with confidence!