We all know by now that the line between dewy and greasy can be very, very thin. While we all want to glow, nobody wants to look oilier than a piece of pizza. And, although some people are more prone to shine than others, there are definitely things you can do—and products you can use—to cut down on oiliness that don't involve dousing yourself in powder. Here's how to stop oily skin in its tracks.
1. If the change is sudden, see a dermatologist
We know we say this a lot, but if your skin has become very oily out of nowhere, see a doctor. Sometimes sudden skin changes can be indicative of larger problems, and the best makeup in the world can't address those! So if this is more than a seasonal change, or comes with a side of cystic acne, make an appointment with your derm right away.
2. Cleanse, tone and moisturize
When you suffer from shine-prone skin, the right cleanser is essential: pick a product too mild and you won't remove the excess grease, but pick a product too hardcore and you'll strip your skin entirely, causing an overproduction of oil as your complexion tries to compensate. Yikes. Our favorite face wash for oily skin is Cetaphil Daily Facial Cleanser—it's gentle and cleans skin beautifully without drying or stripping it.
Toner is something often overused by those looking to address shine—but again, too much of a good thing can wreak havoc on oil-prone skin. Avoid all toners that contain alcohol and glycerin; they make remove grease in the short-term, but over the long haul they'll cause your skin to overproduce sebum like crazy. We love Dior Gentle Toning Lotion, which is gentle by name and gentle by nature. Use after cleansing to gently remove excess shine and prepare your skin for moisturizing.
Which, by the way, you still absolutely need to do; you just need to be smart about it when you're shine-prone. Gel moisturizers have been a godsend for our complexions—they're lightweight and fast absorbing, which are essential when you're dealing with excess oil production. Give First Aid Beauty's Skin Rescue Oil-Free Mattifying Gel Moisturizer a try. Your skin will be well-hydrated and healthy—and yes, significantly less shiny.
3. Prime
We field a lot of questions about primers here at Daily Makeover, but the most common is "Do primers really work?"
The answer is yes. And when you have overly-shiny skin, they're especially important. A great mattifying primer not only extends the wear of your makeup, it also absorbs oil—thus ensuring that your complexion remains matte, longer.
And the ultimate mattifying primer is definitely Korres Pomegranate Mattifying Primer which is truly supreme: the rice powder absorbs shine without making you look like a powdered doughnut, and the jojoba oil prevents your skin from drying out. And did we mention this keeps grease under control for a full eight hours? Yeah. It's worth it's weight in gold.
4. Use an oil-free foundation or tinted moisturizer
Obviously. Avoid products with salicylic acid, even if your skin is acne-prone, as that can be far too drying. Our favorite foundation for oily skin is definitely Hourglass Immaculate Liquid Powder Foundation. Not only does it come in 15 perfect-for-you shades, it really delivers on its promise to keep shine under control. In our tests, even the oiliest-skinned among our editors get five full hours of wear out of this foundation—even in the heat—before any shine starts popping through.
5. Lean in to strobing
If you have shiny skin naturally, the last thing you might think of to do is add more shine with highlighter. But when you think about it, it makes perfect sense: why not control the story? A little highlighter added to your cheekbones, down the bridge of your nose, on your chin and above the Cupid's bow of your lips adds shimmer where you want it, making any additional oil production look totally intentional.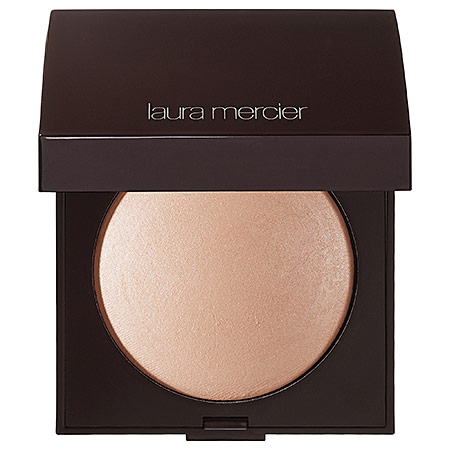 Our favorite highlighter right now is Laura Mercier Matte Radiance Baked Powder for it's natural-looking shimmer that's effortlessly radiant in the most grown-up way.
6. Blot
But even with all these precautions, shiny skin still happens. When it does, don't glob on the heavy powder—blot and remove it with oil-absorbing sheets instead.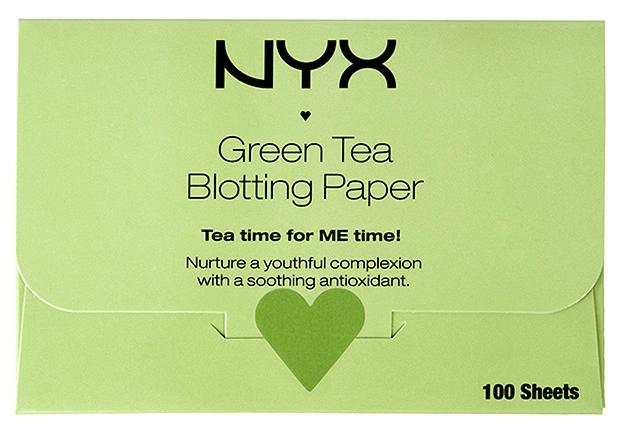 We find that NYX Blotting Papers with Green Tea are the very best; not only do they absorb an incredible amount of oil, they also soothe and calm our skin. And who couldn't stand to have more of that in their life?
Originally published August 2015. Updated June 2017.