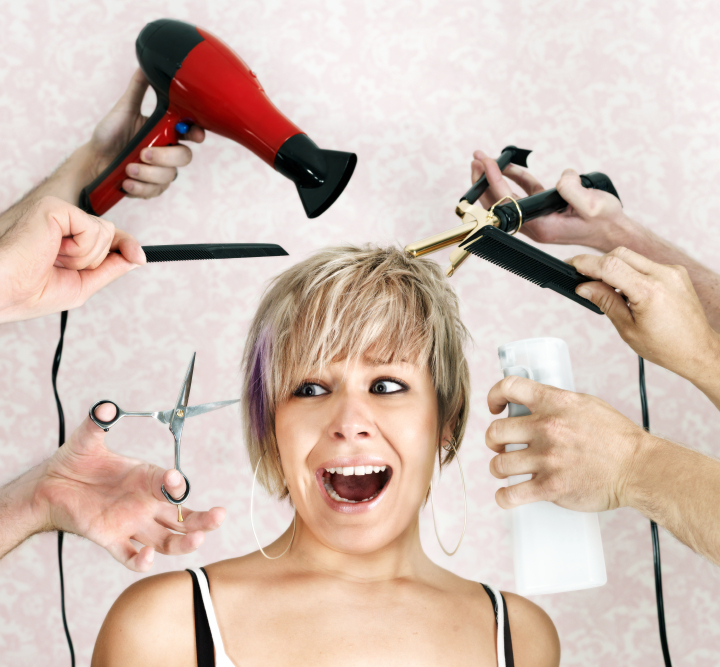 While we love beauty beyond measure, certain aspects, like the hair salon, can get très expensive. We love a good haircut, but it doesn't have to come at a bank-breaking price. Although you may enter your chosen beauty parlor with visions of grandeur about your final result, make sure you think it through. Add-on products and unnecessary services can sneak in and be a source of extra money you need not spend, so we've compiled a list of eight tricks for saving money at the hair salon. Read on below!
1. Don't fall victim to a conditioning treatment or add-on products: Often times, a cut and color can turn into so much more. If you find yourself being coerced into buying a deep conditioning treatment or another service you didn't intend on paying for, don't be afraid to politely say no. Go into the salon knowing exactly what you want and come out getting just that. Also avoid buying additional products that the stylist may suggest after your normal service.
2. Use a stylist who is less experienced or go to a beauty school: Don't be scared to use a different salon than you'd normally go to, and definitely don't discount a less experienced stylist.  Often times, beauty schools also offer discounted rates on services that you would normally pay a fortune for.
MORE: How To: Ask Your Stylist For the Haircut You Want
3. Touch-up your roots at home: At-home root touch-ups can be your best friend! Aside from the convenience of not leaving your home, you're pocketing the money that you would have spent if you ran to the salon for just a touch up. Depending on where you go, you could be paying $40 or more for roots when you could be spending about $6-$10 at home.
4. Check flash sale sites and keep an eye out for deals: Subscribe to flash sale websites like Groupon, Living Social, Lifebooker or Gilt City. These sites constantly have a slew of spa and beauty services up for sale with a half-off (or more!) price tag. You'll be trying out a new salon, but you'll also be saving countless dollars.
5. Shampoo before and blow-dry after: While it's not too common, some salons will charge for the necessary shampoo before the cut and after-cut blow dry. Arrive at the salon with your hair already washed, and skip the hair dryer afterwards. Unless it's included in the price, finish the look yourself.
MORE: The Blowout: How to Do It Yourself and Make It Last
6. Watch for loyalty/referral programs: Some salons offer loyal customer rewards for services that they repeatedly receive. Also, in order to promote their salon, they sometimes offer rewards to existing customers that refer new clients to the salon.
7. Purchase quality products that match your hair type: When you aren't at the salon getting your usual cut and color, make sure you stock your cabinet with products you know are right for your hair. Match your hair type with a shampoo and conditioner duo, and a treatment if necessary. Doing this will ensure that you wont need additional treatments at the salon, and keeping your hair healthy between appointments means you'll need to go to the salon less frequently.
8. Get the right haircut: The right haircut can change your life, but the wrong one can, too.  Make the most of your visit to the salon so you don't have to go back multiple times for the right cut. Always take a photo of your desired style in tow when you sit in the chair and chat with the stylist.
Image via Istock