The good news: You're keeping your New Year's resolution and hitting the gym at least three times a week. The not-so-good news: Your skin doesn't seem too happy with the sudden increase in activity, even though your mind and body are totally on board. Why can't they all just get along? If you find yourself with some unpleasant post-workout acne, don't let that be an excuse to keep you off the treadmill. Instead, follow this expert advice from dermatologist Dr. Hilary Reich to keep your complexion and body in their best condition.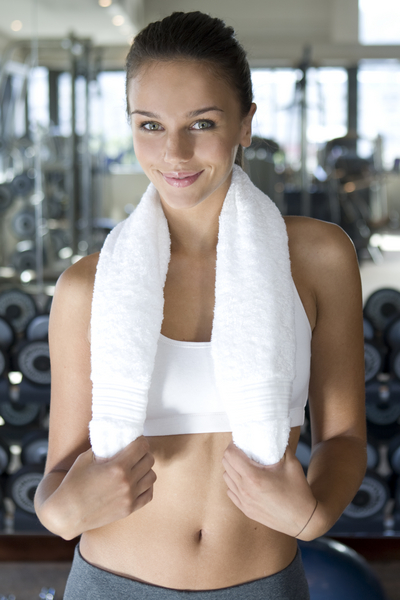 According to Dr. Reich, post-workout breakouts happen "when sweat from your workout mixes with oil, dead skin cells and bacteria that can overwhelm pores and lead to clogging." Sounds delicious, we know—but there is a silver lining. Since dermatologists know what causes sweat-induced breakouts, they also know how they can be prevented.
There are very simple preventative measures you can take to keep your skin as aerated and oil-free as possible while you work out. First, Dr. Reich says to prep your skin before a workout by removing any makeup, moisturizer and sunscreen you may have had on that day. Those products—when combined with sweat—are what contribute to breakouts. If you don't want to stand at the sink in the gym locker room scrubbing your face, try those super-portable makeup removing towelettes. Dr. Reich likes Noxema's Clean Moisture Makeup Removal Cloths.
If you're prone to bacne or other body breakouts, make sure you exercise in silky, moisture-wicking fabrics. Lululemon's Silverescent line of clothing is woven with antibacterial silver yarns to help keep skin bacteria and sweat-free. For additional defense against acne-causing bacteria, Dr. Reich advises washing your chest and back daily with a mild antibacterial soap like Cetaphil's Antibacterial Gentle Cleansing Bar.
As for that sweat—err, glow—during your workout; we know you don't want to be the person dripping all over the elliptical (and the gym is a public place). Don't worry; wiping your face off mid-workout is not a one-way ticket to zit city. "Towels can be essential during a tough workout, but the key is proper use. Gently pat the skin to remove excess sweat. Vigorous rubbing can irritate pores, causing inflammation and breakouts," Dr. Reich says.
Don't worry if your schedule doesn't allow you to hop in the shower immediately after your workout. This does not, however, mean that you should go anywhere before changing out of your sweaty clothing. "The sooner you remove excess sweat and oil after exercise, the less likely blemishes will appear. Acne-prone skin types should use an anti-blemish cleanser like Skinceuticals Clarifying Cleanser."
Follow these simple pre- and post-workout skincare tips, and you'll find those annoying sweat-induced pimples clearing up in no time. If they don't, Dr. Reich offers this additional info: "Eating well is key to having a healthy body and glowing complexion. For clearer skin, avoid sugars (especially high fructose corn syrup) and consume hormone-free, organic dairy products. A fish oil supplement a day helps keep blemishes away."