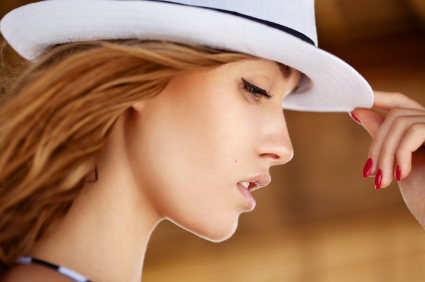 As the days get colder (at least, we expect them to) we like to bundle up in our coziest fall sweaters, scarves, and hats. But what happens when you want to try the latest hairstyle and wear a hat? Most likely you'll end up with flat, staticky hair that doesn't resemble what you had spent time in the morning creating. So that cute hat you bought may remain in your closet if you don't want to sacrifice your hair.
Don't worry, we have the tips to prevent hat hair so you can keep your volume and smooth strands while wearing your favorite trendy hats to protect yourself as the days get windier. You'll want to opt for hairstyles with more body to prevent flattening, since hats trap in heat and that tends to hold your style in place.
1. Dry hair completely. If you usually let your hair air dry, putting a hat on even barely damp hair will flatten your style to the point where there's no rescuing it. Blow dry it completely before heading out.
2. Use moisturizing finishing products. Static is a result of friction between the hat and your hair, especially when you don't use any products. Use a hydrating product like SoftSheen Wave Nouveau Moisturizing Finishing Lotion to prevent friction and frizz from happening.
3. Bring a volumizing spray. If you get a dent from wearing a hat, add volume to hide it. Bring a small bottle of volumizing spray like Phytovolume Actif Maximizing Volume Spray with you so when it's time to take off your hat, spray it directly on your roots for instant volume.
4. Choose the right material. Sometimes it can be the material of your hat that's the problem. Choose a cashmere or cotton cap to avoid static since synthetic materials and beanies are the worst offenders.
5. Twist hair into a bun. If all else fails, twist hair into a bun at the crown with a hair tie wrapped in fabric. When you take off your hat, undo your hair and shake it out upside down. Tousled waves are in so you should still have pretty hair when you undo your bun.
[Image via Istock]