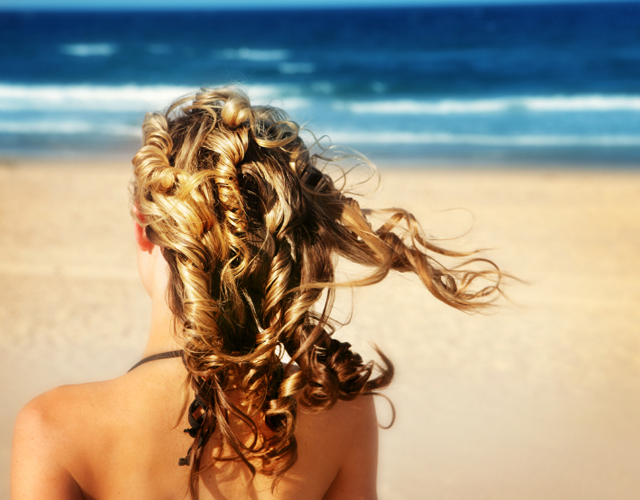 Summer is almost here, which means that preparations must be made. With all the fun in the sun comes a change in temperature that can wreak havoc on your hair. Frizz, limpness, texture changes, extreme dryness – all of these increase as the Mercury rises.
We believe in planning in advance, so we reached out to three of the hair industry's top experts to ask them what you can do to get ahead of summer's hairstyling drama. Straight, curly, natural, thick, thin – no matter what your hair type, we've got advice below to secure your summer hair strategy.
Everyday Maintenance With Ammon Carver, Celebrity Stylist and Matrix Artistic Director:
What are some common mistakes women make when styling in the summer? How can they prevent them?
Most women tend to over-work or over-style their hair during the summer. Summer is all about easy, effortless looks, so try not to get too fussy. Use lightweight products that won't weigh hair down or keep it from moving naturally like mousse – it adds bounce and lightweight hold to curls and natural texture. Hello, beach waves!
What are some suggestions to avoiding common summer styling mishaps, like frizz, dryness, limp hair and excess oil?
Use a lightweight finishing oil through your mid-length and ends, which fights frizz and dryness simultaneously. If you have limp hair and/or excess, just add dry shampoo at the scalp or use a texturizing and volumizing powder, which also does wonders for adding lift and a beautiful summer-y texture.
Are there any ways you can protect your hair from sun damage? What about water or beach damage?
Many products are made with UV filters to aid in sun protection. Total Results Blonde Care Flash Filler and Biolage Colorcaretherapie Shine Shake are both excellent for sun/beach care and act as SPF for the hair. If for some reason you don't have any UV hair products, apply a deep conditioning masque to your hair and slick it back into a simple bun while you enjoy the weather. It'll help protect and condition the cuticle layer of your hair.
Care for Curls and Natural Hairstyles with Morgan Willhite, Creative Director at Ouidad:
What are the common mistakes girls with curly hair make when the weather heats up, and how can they be avoided?
You'll want to get ahead of the heat and start prepping now to avoid dehydrated, frizzy hair. Hydration is key; lack of moisture causes hair to expand and frizz. The foundation to healthy, hydrated hair is using a protein-based treatment like Ouidad Deep Treatment at least 2-3 times a month. Use heat activation for the best results since it allows the proteins to penetrate and internally repair the structure of your hair. You can use heat from a blow dryer, steam from the sauna at the gym, or the beautiful summer sun!
After shampooing and conditioning use a leave-in conditioner. I call this the 'base' of your hairstyle. The 'base' helps seal in the moisture by filling in any dry areas and taming the texture. Coarse, kinky and/or dry textures should use a cream leave-in conditioner like Ouidad Moisture Lock Leave In Conditioner, which will smooth the texture in preparation for a styling product. Fine, curly and/or wavy textures should start with a base created with a liquid spray leave-in conditioner like Ouidad Botanical Boost, which adds moisture without weighing down the curl pattern.
How can you protect your hair from the sun's harmful rays?
Use a styling gel, cream, or mousse when styling, which ensures the longevity of your hairstyle. Opt for products that contain anti-humectants (frizz-controlling) properties, so they can protect your hair from expanding and frizzing.
Are there better ways to style your hair when it's hot and humid? How do you achieve those styles?
One of the most common mistakes woman make when styling their hair in the summer months is that they try too hard. Summer hair is languid and breezy, and you don't get that vibe by slaving over it…less is more.
Easy Summer Cuts and Styles with Michael St. Germain, Celebrity Stylist at Sally Hershberger Los Angeles:
What are some simple options for haircuts and styles when it comes to summer hair?
When I think of summer hair, I think of that soft disheveled sexy lived-in hair that's right out of bed and headed towards the beach. Summer hair is languid and breezy, and you don't get that vibe by slaving over it…less is more. Cuts that work best for the summer should be low maintenance, and easy to style. Ask your stylist for the cut and style that works best for your hair type and face shape.
Any common mistakes you see women making when it comes to summer styles?
Avoid over-styling, and invest in a good dry shampoo.
Image via Istock
More Hair Tips From Beauty High:
Blonde, Brunette and Redhead: How to Protect Your Hair Color at Home
Fishtail Braid How To: 10 Best Video Tutorials On YouTube
Lessons I've Learned From 9 Different Hair Makeovers