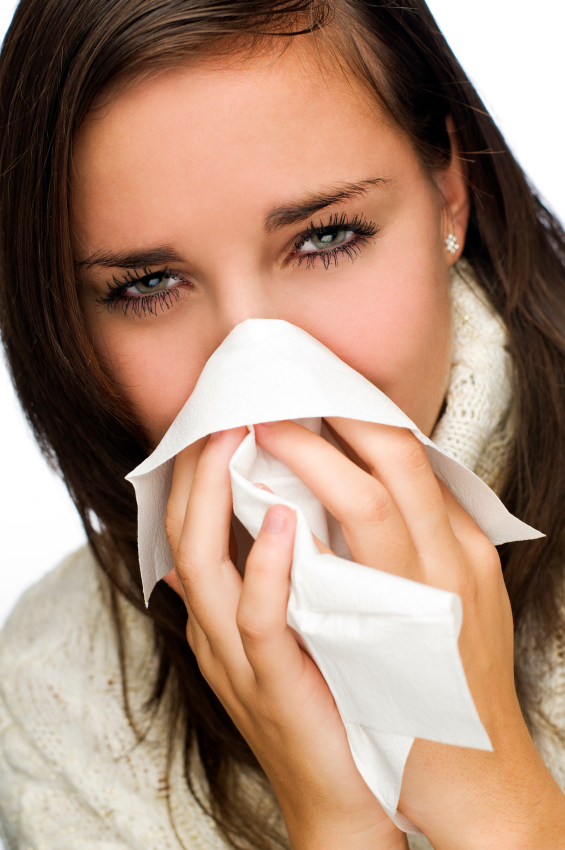 We all have our favorite things about the fall season—from the crisp air to that perfect fall sweater and Pumpkin Spice lattes—but, unfortunately, a cooler season often means a fall cold.  No one wants to get sick during back-to-school seasons when the weather is this perfect (well, no one really wants to get sick ever), so it's time to figure out the best way to ward off germs so you don't have to spend a minute of this season in bed.
Here, we've compiled a list of easy tricks to keep you from getting sick this season (plus little beauty tricks throughout the way, of course) so you can truly get the most out of the fall season.
Carry Hand Sanitizer (And Lotion!)
We all lead busy lives that usually entail running around from place to place—and touching things along the way. Just in case you don't have time to run into a bathroom to wash your hands as you go about your day, a good rule of thumb is to never leave the house without a handy little travel bottle of hand sanitizer. That said, we all know that the cold weather, combined with hand sanitizer, can seriously dry out your skin, so we recommend also carrying hand lotion in your bags (like Crabtree & Evelyn's Pomegranate Argan & Grapeseed) to keep everything clean, soft and smooth.
Make Tea Your Go-To Drink Of Choice
Instead of constantly chugging sodas, juices and coffees, stock up on tea when the weather cools down. A warm drink really satisfies in cooler weather, and tea also happens to be full of health benefits—some are packed with antioxidants and also helping with larger health issues like lowering cholesterol and protecting from the risk of stroke.
Stay Hydrated
You hear it all the time, and it's true: Drinking water is a great way to not get sick. As repetitive as it sounds, trying to drink your standard eight glasses a day of good 'ol H20 can literally put a new spin on everything—from better skin to squashing the common cold or getting rid of that pesky stomach bug.
MORE: 5 Beauty Habits That Are Bad For Your Health
Don't Share
You may have learned that sharing was caring in kindergarten, but when it comes to flu season, sharing is definitely not caring. The quickest way to get sick (and to get others sick!) is to share food and fluids with them, so just don't do it. If you feel like you're coming down with something (or your friend tells you that they feel like they are) don't then grab a bite of their sandwich, and vice versa. Stay on the safe side and politely decline.
Don't Slack On Your Beauty Sleep
We know this can be a hard one when it comes to a busy lifestyle—work commitments are tough to avoid, and who wants to say no to an evening outing that sounds like fun?—but the best way to stay healthy is getting a good amount of sleep each night.
MORE: 15 Must Have Health and Fitness Apps
Take Your Vitamins
You may not know it, but you probably need a little vitamin boost. Whether you're not drinking enough milk (vitamin D!) or you're slacking in the red meat department (iron!), investing in an all-in-one vitamin each day could be beneficial to your health. Or, single out certain areas and try vitamins such as fish oil, vitamin B or omega-3s. These will all help to boost your immune system and keep you healthy year-round.
Don't Be Lazy
Okay, so we did just tell you to get more beauty sleep, but that doesn't mean you should sleep the day away!  Being active and getting exercise is great for your overall health, and can help to ward off any diseases that are trying to latch on.
Image via Istock