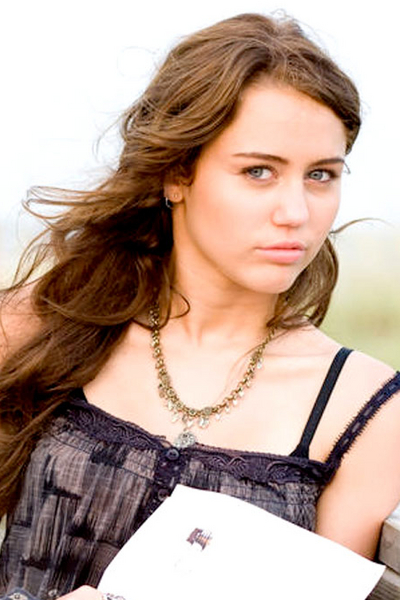 Over the years we've watched Miley Cyrus transform from a tween Disney darling into a more sophisticated, grown-up young woman. Nowhere is that transformation more apparent than in her new movie The Last Song. Our friends at Hollywood Life got the scoop from Miley's makeup artist on how she created her beauty look for the movie. Check it out!
Miley Cyrus, who in real life is a huge fan of fun, dramatic makeup like fake lashes and eyeliner, went for a more natural look to portray 17-year-old Ronnie Miller in her new film, The Last Song. "A lot of the movie takes place on the beach so the makeup is pretty clean," says celebrity makeup artist Julie Hewett, who worked on set to create the beauty look. It was so natural that it only took about 20 minutes to get Miley camera ready! "She is just a one in a billion young lady. Full of life and so special and so talented. I had the most fun summer," Julie says.
"Her skin is so beautiful and she is so good at taking care of herself and her skin," Julie says. Since the majority of the movie was filmed on the beach, this meant lots of sunscreen for Miley. "We used Kate Somerville's 55 SPF sun block everyday."
Julie would prep Miley's skin with Laura Mercier tinted moisturizer and set it with a good amount of bronzer. To give Miley a pretty flush, Julie custom blended two of her Cheekie shades just for her. "As a surprise, I made a color for her called Destiny," Julie says.
"Miley has such spectacular lips. You really don't need to put to color on there," Julie says. "She is my biggest fan when it comes to my Camellia Balm."
For Miley's eyes, Julie kept things simple. She was at the beach, how weird would it have looked if she rocked a smoky Hannah Montana eye? "I used my Julie Hewett Rose Scented Mascara for her natural look and Diorshow for a party look," Julie says.
To keep cool on the hot outdoor set, Miley would spritz herself with Julie Hewett Floral Water in Cucumber Extract. "She is obsessed with it. She would spritz it in her hair and her face. She lives for that. She loves it," Julie says.
So, what did Miley do to relax in between takes? "Miley would grab the brush out of my hand and do my makeup!" Julie says. "She's just knows everything about makeup and has remarkable taste. She's just incredible," Julie gushes.
– Marta Topran