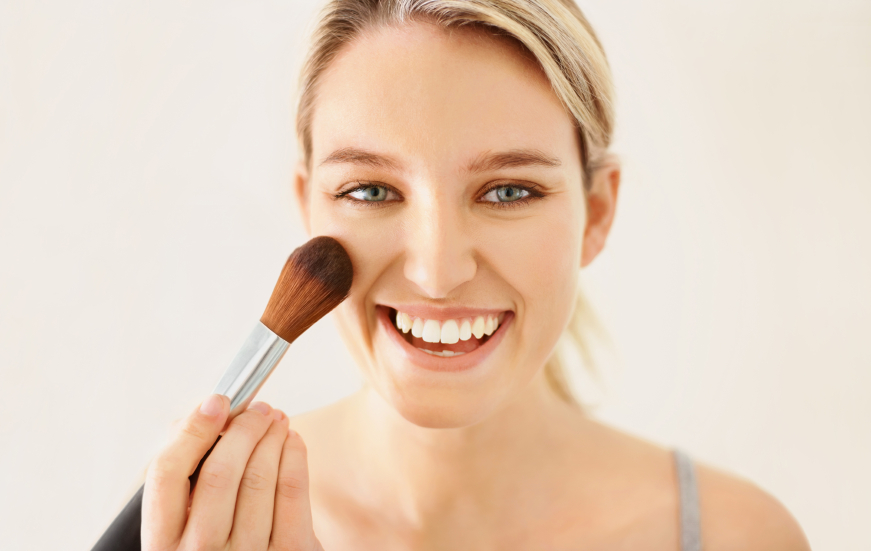 Through all of our handy beauty products, we enhance and improve upon our features that we were born with, and play up the ones that we wish had a bit more prominence. So that saying "fake it until you make it" can really ring true in the beauty world – if you want fuller lips, make them; bolder brows, create them; and a contoured jawline, contour it! In this column we'll teach you the tips and tricks to tweaking your features and "faking it" until you "make it." 
Besides making us feel gorgeous and giving us a creative outlet, the best part about makeup is being able to highlight  your best features — and minimize the ones you're not so crazy about. We've all got something about ourselves that we'd tweak a bit if we could, and whether you feel like your eyes are too small or your lips are too big, you've likely tried to cover up a part of yourself that you don't absolutely love.
If you feel like your nose is just a bit bigger than you'd like it to be but you can't afford (or want to go to the lengths of) a nose job, we've put together a guide for how to make your nose look smaller using just makeup. Read on below to learn how to fake a smaller nose!
MORE: Learn How to Contour Like the Stars
Contouring: Some use it to give the illusion of cheekbones, but others can use contouring to make their nose look smaller. With a powder color about two shades darker than your natural skin tone and another powder one shade lighter, use an eyeshadow brush to draw a line on either side of your nose to the width that you'd like your nose to be. Be sure to lightly dust the powder; pressing it on forcefully will simply make the contouring noticeable. Next, apply the lighter shade of powder down the center of your nose to highlight. Keep in mind that you're creating shadows, not actually making your nose smaller. Blend the contouring well so that it's subtle and untraceable.
Blotting Papers: Your nose is in the T-Zone of your face, meaning that it's one of the places most likely to accumulate oil, especially if you've got oily skin to begin with. Because you're aiming to bring the focus away from your nose, keeping shine at bay is a huge way to keep the spotlight off of that area of your face. Keep blotting papers in your purse so that you'll be able to blot away any shine that happens throughout the day.
Focus on Your Eyes: By bringing attention to another part of your face, less notice will be on your nose. Apply a brow gel to your brows, cover up any dark circles underneath your eyes, and swipe on two coats of black mascara to make your eyes pop. For nighttime, add a smokey eye for extra drama.
Image via Istock