var excludeGumGum = true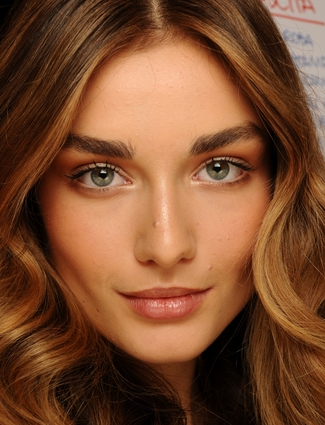 Photo: Luca Cannionieri
Who doesn't want bigger, brighter-looking eyes? When it comes to making your eyes pop, we know it takes more than just swiping some shadow across your lid. So we asked a few beauty experts how to make eyes look bigger, regardless of shape. These tricks are genius, if we do say so ourselves!
How To Maximize Your Eyes With Mascara
Get The Perfectly Shaped Brow
When it comes to working with brows, keeping them well groomed is essential. "Brush them upwards, trim them, and make sure than anything underneath them is either waxed or plucked away so you can see the shape of your brows," says Samantha Zangrillo, a makeup artist at Warren Tricomi Salon in NYC. Her other suggestion? Make sure your brow arch is directly over your pupil, this way your eye will have more height and look bigger.
Next, color your brows in with a brow shadow or pencil. "You should also dust a shimmery highlighter on your brow bone–something light–that will really open up your eye," Samantha added.
Max Out Your Lashes With Mascara
Opening your eye with mascara means using lots of it. Our fave for this trick? Rimmel's Volume Flash ScandalEyes Mascara ($6.99, Walgreens.com). It creates longer, fuller lashes because it's loaded with collagen and keratin to fatten up each eye fringe. It also comes with a great big brush that's long, wide and dense, so it coats your lashes with fewer swipes, reducing the risk of clumps.
"A lot of people make the mistake of doing just one layer of mascara and calling it quits," Samantha says. Instead, apply a layer of mascara, let it dry, then add a little more. You can even add a third coat to outer lashes, which will really accentuate your eye shape.
Enhance Your Eye Shape With Eye Shadow
Many people think creating the illusion of a bigger eye means piling on a ton of dark, heavy shadows, but celebrity makeup artist Nick Barose, who's worked with Michelle Williams, Brooke Shields and Lucy Hale, says otherwise.
Zooey Deschanel's 7 Biggest Beauty Secrets
He recommends applying a shimmery pale eyeshadow, like gold or a soft bronze, on the upper lids. The more light that's reflected from your eye area, the brighter they'll look. Next, use a dark, matte brown or grey eye shadow in the crease to create the illusion of more depth. "This will open up the eyes but in a more convincing way, because the whole thing isn't dark; we are playing with dimensions a bit," says Nick.
Another tip is never to use the same color shadow as your eye. "Then everything blends together and nothing stands out," says Samantha.
Widen Your Eyes With Eyeliner
Good news! Opening up your eyes doesn't mean skipping out on sultry eyeliner. The trick is all in the application. "The mistake people make with eyeliner is that they line their entire eye with one thick line all around," says Samantha. "The best way to open up your eyes with eyeliner would be to start from three-quarters of the way in and work your way out, and if you give it a wing tip, that would open up the eye as well," she added. Definitely avoid putting anything dark in your inner corners, which would close up the eye area and make it look smaller.
Get The Look: The Waterfall Braid
Have you tried these tips to get bigger, brighter eyes? We want to hear your thoughts!
This post is sponsored by Rimmel London. Please read our Editorial Ethics Pledge to know how we select products to feature.