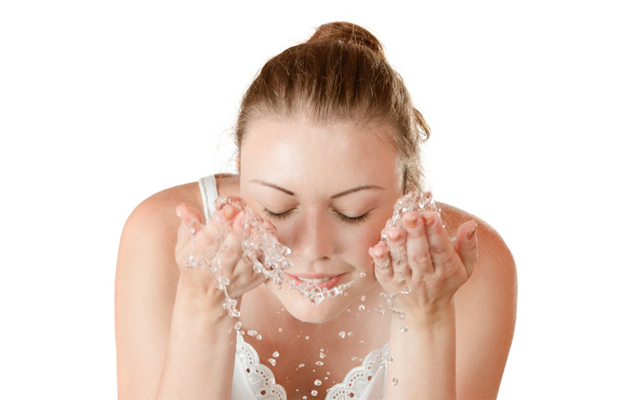 With all of the different ways to exercise these days, we're coming up with fewer and fewer excuses to skip the gym. Heading to hot yoga or taking a kickboxing class make sweating a little more bearable mentally and while you're burning calories, your face may be taking a beating. In an effort to learn the best ways to avoid a nightmare skin situation as a result of working out, we headed to Well + Good NYC's Hot Yoga class at Pure Yoga to talk to the professionals. After getting a simultaneously zen and invigorating yoga session from Loren Bassett, we got the scoop on how to treat your skin after an hour of exercise.
First, wash your face before you work out. Often we forget this step, but the dangerous cocktail of makeup, mascara and sweat turns into a pore-clogging face mask for your entire workout. If you're heading straight to the gym after work, use makeup remover wipes to get the job done. Next, clean your face again after you work out. Even though sweating won't cause a breakout, leaving sweat on your face will cause a few issues. The salt in your sweat will dry out your skin and cause pimples and lackluster skin tone. Lastly, exfoliate a few times per week. This mainly depends on how sensitive your skin is, so find a product gentle enough or strong enough for your skin type. There are two main types of exfoliants: Chemical (with fruit enzymes) and physical (sugar, jojoba, or other granules). The best parts of exfoliating are the removal of dead skin cells and radiance boost that come as a result.
Our recommendation for an exfoliator is Suki Face Exfoliate Foaming Cleanser, which smells of lemongrass and natural sugar and wakes you up as it exfoliates your skin. It's gentle enough for all skin types, but if you've got extra sensitive skin, only use it two or three times a week. If you can't get to a sink before or after your workout, we suggest using Neutrogena Makeup Remover Cleansing Towelettes before and after your workout. Follow these steps and your skin will no longer hate the gym!
Image via Istock