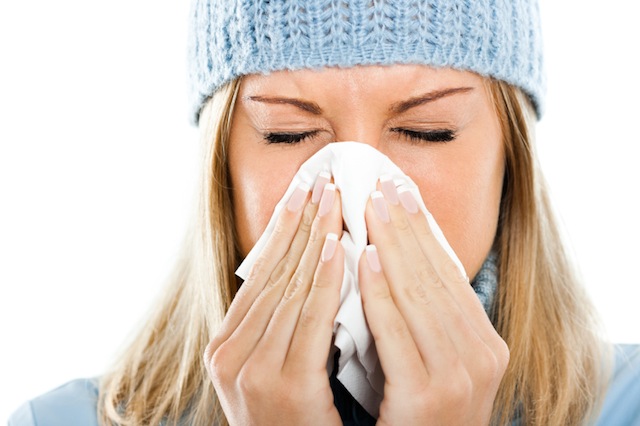 Being sick is obviously not fun, but being sick and having to face the world is the absolute worst. A bright red nose, tired eyes, and pallid skin? Not the most flattering combination—and definitely not the best way to spend the day.  The worst part is that, no matter how hard we fight it, we usually just have to let a cold or flu run its course.
That said, we're convinced that we don't have to look sick, which is why we turned to celebrity makeup artist Scott Barnes, who's worked with gorgeous A-listers like Kate Hudson and Jennifer Lopez—just to name a few. Here, his genius tips on how to look completely beautiful, even when you're totally under the weather.
For bright eyes: Using eye drops is an essential part of making sick, tired eyes look well-rested. Barnes recommends Naphcon-A in particular, which will make the whites of your eyes super white and will help you feel more awake. And to really open up your peepers, use a coat or two of Eyes to Kill mascara by Armani—Barnes swears by it for a dramatic, jaw-dropping effect.
MORE: 8 Ways You've Been Drying Out Your Skin
For a healthy glow: Dust some bronzer on your skin to fight a flu face and add a healthy dose of color to your complexion. One to try: Guerlain's Terracotta Bronzing Powder. "They're not shimmery so they work on everyone's skin, and never add shine," says Barnes.
For a less-red nose: Without a doubt one of the most-challenging beauty issues you face while you're sick, a Rudolph-worthy nose can also be tricky to disguise. Barnes's trick to remedy the red: Dab Stelactiv, a diaper rash (yes, you heard us!) cream from Mustela, around the affected areas.
Image via Istock