If you live in the Northeast, you've been pummeled this winter by what we've come to know as Snowpacolypse 2011. At this point, the snow doesn't even phase us, but it's hard to trudge to work and manage to show up looking bright-eyed and feeling cute while covered in sludge. Luckily, Our friends at StyleList asked celebrity stylists how to look chic even when you feel more like Nanook of the North.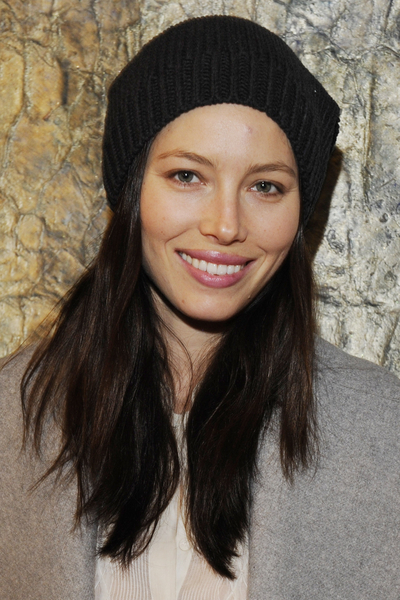 New York-based celebrity stylist Elle Werlin says it starts with the right coat. "The latest trend to come back this season is fur, whether it be real or faux," she tells StyleList. "If you want to double-up on two big trends this winter, go to your local vintage store and purchase a '50s fur coat. You will never look more glamorous in the snow. Another trend that will keep you stylish and trendy this winter is a classic anorak with a fur-trimmed hood, perfect for the woman who wants to be sporty, yet polished."
Try on Jessica Biel's hairstyle in the Makeover Studio!
Here are some more snow-chic tips from our experts:
Layer it on thick. "Since the layered look is on trend and keeps you warm, I suggest a long-sleeve tee under a button-down, with a vest and then an oversized cardigan," Werlin says. "To compliment the top without distorting one's silhouette, try either chunky cable knit tights and a skirt, or cashmere leggings look better than knee-boots."
Brighten up. "I think the winter accessories are the perfect way to be fashionably chic with colorful bold fabrics in scarves and hats and fun mittens or gloves," Shigley says. "My favorites are my leopard-print Isotoner gloves with a hot pink beret, paired with a gray infinity scarf. These three pieces keep me warm and stylish on the go."
Hat trick. "I think a lot of people do forget about hats, and so much heat escapes from your head in that kind of weather," Sagar says. "We had these darling little skull caps this year with big cabbage roses on the side. They were adorable. You might have hat hair but that's OK. Everyone else will, too. But, if you're not a hat person, earmuffs are always cute.
Try on the top 10 cozy hat hairstyles!
Avoid the dreaded hat hair. "Tie your hair in a loose pony on top of your head," Schwartz advises. "Wear a hat that's large enough to cover your whole head. When you get inside, discretely undo the ponytail. Shake out that mane, girl, and warm up."
Free your fingers. "If you are someone who texts a lot or uses your phone a lot, those new fingerless gloves — they're basically sleeves, instead of a glove — are pretty great," Nancy Sagar, a spokeswoman for Neiman Marcus in Colorado, says.
Boot up. "There are so many cool rain boots that look like leather boots that you can wear in the snow this season," celebrity stylist Penny Lovell says. "Marc by Marc Jacobs and Banana Republic both have especially stylish ones."
Under wraps. "I love really long, wide cashmere or fine wool scarves wrapped round a couple of times for a big statement at the neck," Lovell says. "A pattern or contrasting color scarf looks great. Camel and tan are especially chic for this season."

Try on hats in the Makeover Studio!
More from StyleList
Caring For Curly Hair
How To Blow Dry Short Hair
Rihanna's Crazy Curly Hairdo