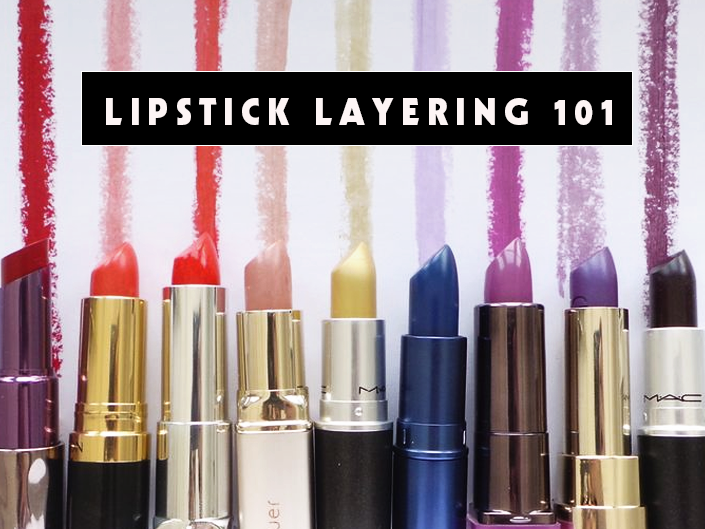 When it comes to lipstick, if you name it, we've tried it. From matte and cream finishes to highly pigmented and sheer colors, the second we can get our hands on a new lip color, we instantly put it to the test. The only time we get a little bit stumped? When the lip colors we're dying to try are just a bit over the top — blue lipstick, for instance, doesn't exactly scream, "One color fits all!" That said, it turns out you can make any lipstick color work for you once you learn the secrets of layering different lipsticks together. As an added bonus, this can also mean you get double the impact of any color in your arsenal!
To get the real scoop on lipstick layering, we went to the professionals. MAC Cosmetics senior artist Regan Rabanal took us through the nitty-gritty of layering different lipsticks, explaining exactly which colors should be put together and why. Whether you're trying to find your new signature color or you simply want to find a way to wear the season's biggest trends (without looking too over-the-top), read on below to learn how to layer your lipstick like a pro!
"First off, any time you're wearing lipstick, prep your lips with a primer," Regan explains. "It'll smooth out any wrinkles or fine lines in your lips and give you a smooth finish, especially if you'll be layering lipsticks. When you're combining different textures of lipstick, try your best to apply the matte formula first, because it will hold to your lips better than a creamy or glossy finish. Also, to keep your lipstick tube from getting messy with layering, apply the lipstick with a lip brush instead."
Yellow + Orange: "My first inkling would be to pair a bright orange with yellow. Neon orange is such a huge color for spring, and we're seeing it everywhere. I'd use that as a base, then warm it up with a yellow frosted lipstick for a subtle luster. The yellow will soften the blow of the bright orange a bit," Regan explains.
Purple + Blue: "To make blue more wearable for someone who may not particularly select that, I'd add a purple base to it first. By adding purple, you're going to get more of a berry tone, or a deep currant," Regan says. For spring, we chose more sheer shades of purple and blue to keep things fresh during warmer weather.
Sheer Orange + Nude: Hot orange may be the color to wear right now, but sometimes, a sheer orange is all you really need. Take a sheer, natural orange and pair it with a nude base. "Take a natural lip tone that looks more flesh toned, then pop the sheer orange over the nude. You'll have a peachy color that looks amazing," Regan tells us.
Red + Deep Purple: 
The really, really deep lipstick colors (think of the
dark lipstick Lorde
has become famous for) can be a little bit intimidating, but layering them with other colors helps to soften the dark impact while still keeping the cool factor. "Red will warm up the dark color a bit, but still give you that intense color," Regan says. "Put the darker color down first, then add the red on top of it to adjust the shade. You can enhance the plump of your lips a little bit by just applying the red in the center instead of all over the lip."
Nude + Bright Purple: Get a pretty pastel color for spring by mixing a nude base with a bright lavender that will really pop. "A lot of people with warmer or golden skin tones can wear lavender. It just makes the look a little bit happier," Regan tells us.
Blue + Orange: "Mixing blue and orange means putting together complementary colors off the color wheel, which means the color will caramelize and look more natural," Regan explains. Orange will also help take the blue into a more sandy, earth-tone color.

Photos by Samantha Lim