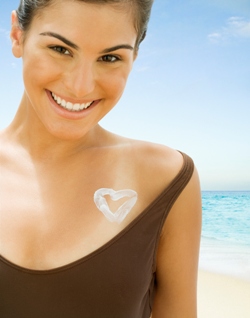 Photo: © Jose Luis Pelaez/Getty Images
It's Sunday night, and you just got back from a great weekend at the beach, or maybe you had a relaxing snooze in the park with your headphones on. When you get dressed for work on Monday morning, you spot them: your bikini tie lines, the white imprint of your headphone wires twisting down your neck and your sunglasses' arms, clearly defined on your temples for the world to see. We spoke to MAC's Senior Artist John Stapleton to find out how to cover up your tan lines to avoid that inevitable "Got a little sun this weekend, eh?" comment enjoyed by exactly no one.
What's the best way to cover up the most basic and universal tan lines: those from your bikini top?
Try using a foundation that is water resistant, yet sheer. Face And Body Foundation from MAC is perfect. Isolate the "line" areas that need to be darkened – use a brush to do this. After the liquid sets, you can apply a nice layer of the foundation across your chest and any other areas to blend. Many people like to use powders with a sparkle to set the make-up.
Is there a different cover-up process if you got a burn versus a tan?
Eek – burns are difficult to cover. Your skin is going to be begging for hydration, so slather on tons of moisturizer. The only thing that can remotely cut the redness would be a foundation with a more yellow base. The truth is that nothing can make a burn look better, and it's best to just let the damaged tissue heal.
How do you find the right tone for your skin?
When you're talking tan, there's always the additive of red. So you will probably have to check the color on your body, not your face. Ask a professional to help you choose the right color. Trying it on and getting a lesson on how to camouflage is well worth your time.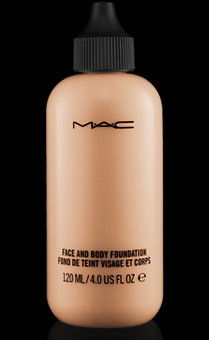 How can you keep the cover-up product you use from getting on your clothes if you perspire or get wet?
There are many products that have a non-transfer or waterproof claim, but always be cautious with products. MAC PRO Performance HD Airbrush Foundation will not transfer and is waterproof. It can be sprayed on or applied with a brush. If you're going to make up your arms stick to the tops; don't do the undersides which are more likely to rub.
Should you use different products to cover up face versus body tan lines?
The same products mentioned would be fine. You may need to deepen your concealer since you've been protecting your eyes from the sun. You don't want that 1970's white-under-the-eye look – at least not this season! You can also use a little bronzer to bump up your tanned look.
If you get a spray tan, will it even everything out, or just darken what's there?
Spray tans will darken all over. If you have darker or lighter spots on your body, then these will show up as different tones.
Any final professional advice about tanning?
I can't say it enough: wear sunscreen! Apply it again if you've been outside for more than an hour. Your skin tone will deepen from just being in the sun, so don't do yourself a world of hurt by burning yourself. Use a bronzer. Bright colors, like aqua eye shadow and coral lipstick, look amazing against a bronzed skin. The summer is a great time to get your resort look on.
As one of the web's largest beauty sites, DailyMakeover.com constantly receives products from beauty companies for editorial review. Please read our Editorial Ethics Pledge if you'd like to know how we select products to feature.