In our Q&A series, beauty experts address your most bewildering issues. Have a beauty-related quandary of your own? Submit your question in the comments below or via Twitter.
Q: I always end up with red, irritated bumps after waxing. Can you tell me how to get rid of ingrown hairs, and how to prevent them in the future?
A: "In order to prevent ingrown hairs after a wax, you must first understand why these irritating hairs are growing in the first place," says Cindy Barshop, hair removal expert and founder of Completely Bare. "Two of the most common causes may be that you have very coarse hair and are prone to ingrown hairs, or it may be the hair removal method of the spa that you chose."
"Making hair less coarse is crucial to cutting back on ingrown hairs. In order to reduce hair density, it is best to use a hair inhibitor that contains Capslow, a plant extract that reduces hair growth. Using a product such as Completely Bare's Don't Grow There Hair Inhibitor and Moisturizer [$9.99, target.com] reduces hair density by as much as 50 percent, therefore cutting back on ingrown hairs altogether," Barshop explains.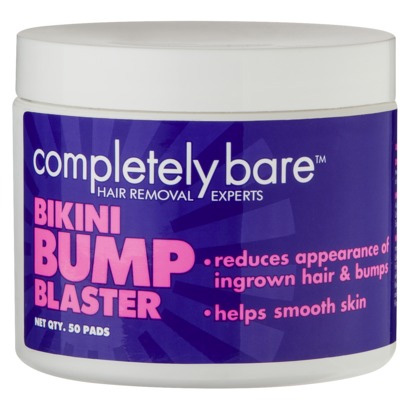 If you have fine hair and are still getting ingrown hairs, "First, exfoliate the irritated area and use a pimple medicine with salicylic acid to clean the sebum. Completely Bare's Bikini Bump Blaster [$9.99, target.com] exfoliates and blocks bacteria buildups thanks to its glycolic and salicylic acids, ultimately preventing and eliminating ingrown hairs. No matter your product of choice, maximum results can be achieved through every day use to minimize ingrown hairs, and used every other day in the prevention process."
Next time, stop ingrown hairs before they form. Barshop says, "Following waxing treatments, it is recommended to use a cold compress to cut back on the red bumps that may occur. If your skin is sensitive and appears irritated following a treatment, it is best to switch waxing products with ingredients that are not as harsh."
Read more: Waxing, Shaving or Laser? Hair Removal 101