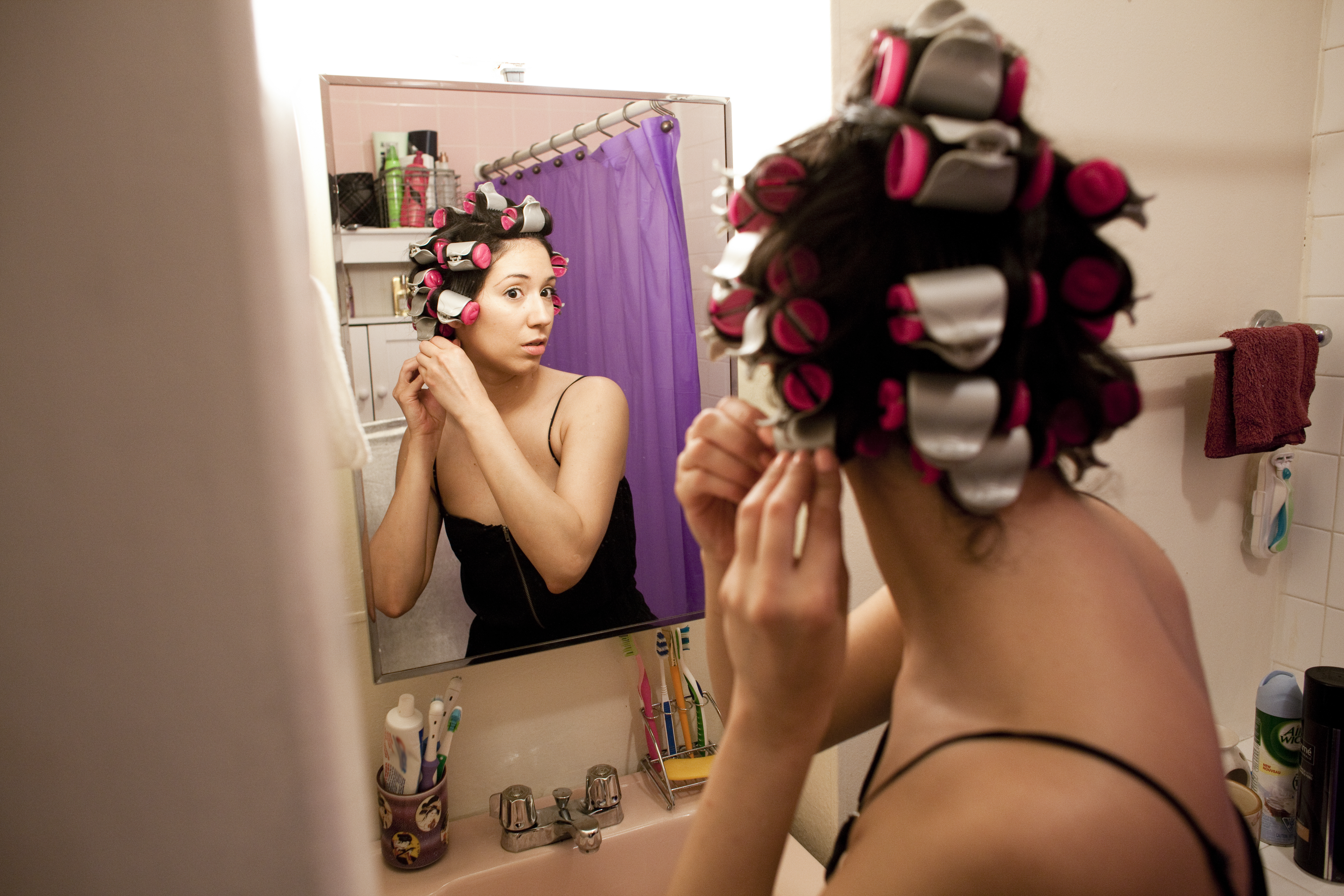 There are few things worse than having to rush when you're getting ready. Liquid eyeliner gets everywhere, your hair looks fine from the front and then you find a giant bump in the back when you pass a mirror around noon, and basically everything that can go wrong will. More than understanding how terrible rushing to get ready is, we also know quite a few tips to make things easier on you. Below are 15 must-know tricks for getting ready faster.
1. Keep your space organized so you don't have to search for products every time you get ready. Into making your own space? Check out these DIY makeup organizers.
2. Have a quick look that you can do in five minutes flat. Even if it's the bare essentials, master a look that can be your go-to for the mornings when your alarm doesn't go off and you've got all of 10 minutes to get ready and leave.
3. Practice on the weekends. When you actually do have time to get ready, practice blow drying your hair or drawing on a cat eye, or whatever part of your routine takes you the longest. That way, when you're pressed for time, you'll be able finish quickly.
MORE: 25 Tips for Never Having a Bad Hair Day Again
4. Use multi-purpose products. Whether it's a tinted moisturizer or a stain you can use on your lips and cheeks, multi-purpose products will cut down your time getting ready (and cut down how much you spend on products).
5. Have Q-tips handy. Many times when you're in a rush, you're likely to make a mistake or two. Have Q-tips ready for quick spot removal, dipping them in either makeup remover or water depending on the kind of makeup you need to clean up.
6. Plan the night before. If you know you're going to be taking a lot of time on your hair the night before, wash and blow dry your hair the night before so that you only have to fix it with a flat or curling iron in the morning.
7. Use a cleansing conditioner instead of a shampoo and conditioner team. You'll get smooth, healthy hair without having to go through two processes of products in your hair in the shower.
8. Take your time. This may sound counterintuitive, but rushing through getting ready will almost insure making a mistake or forgetting to do something. Move with urgency, but take your time so that you don't waste more time going back over mistakes that could've been avoided.
9. Have three fast hairstyles you know you can do no matter what your hair looks like. Our go-to trio includes a braid, a top knot, and a sleek low ponytail. They take all of three minutes and they'll always make you look put together.
10. Prep everything else the night before. You may not be able to sleep in your makeup, but you can choose your outfit and pack a lunch the night beforehand so that you can spend more time focusing on your face.
MORE: 10 Amazing Beauty Tips You Can Only Learn Backstage at Fashion Week
11. Lipstick is your friend. For the mornings you have zero time, swipe on a bold lipstick instead of an entire face of makeup. Red lipstick especially has been shown to make you look younger and more awake. That's a win-win, people.
12. When you don't have time to wash your hair, give your strands a break and use dry shampoo. Lift up your hair at the roots, spray about six inches from underneath, then comb through with your fingers so it can absorb any excess oil in your hair and give it a bit of volume.
13. Use your fingers to apply everything. Instead of reaching for brushes and doing all of the swirl-and-tap business, use cream-based products and your fingers to apply. It may just cut down on seconds, but every second counts when you're running late.
MORE: 10 Lies We All Tell Ourselves Getting Ready in the Morning
14. If you're a morning shower person, wrap your hair in a microfiber towel (it'll dry faster than if it's in a regular towel) and do your makeup while your hair is drying. The more you can multitask, the better.
15. Listen to upbeat music. In the same way that listening to fun music gets you in a great mood when you're getting ready to go out with the girls on Saturday night, listening to upbeat, happy music in the morning will wake you up and put you on tempo for a faster beauty routine.
Image via Chris Garrett/Getty Images