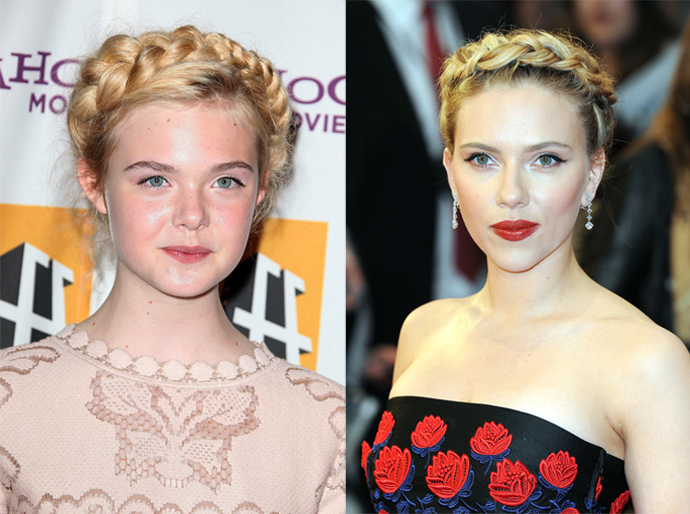 Dear Wesley,
How can I get the milkmaid braids I keep seeing celebrities wearing?
xoxo,
Melissa
Milkmaid braids are so fun and so easy!  They can be worn to run errands, or to an upscale event, they are so versatile and everyone loves them.
What you'll need:  Two rubber bands and a few bobby pins.
Step One: Starting with dry hair, separate your hair into two sections running down the center of your head. You'll need to create pigtail braids. It is easier if you braid the hair from the front, starting from right behind your ears. Once you have finished the first braid, secure the end with a rubber band. Then repeat on the other side, until you have two braided pigtails.

Step Two:  Take the first braid and bring it all the way up and pin it in the middle of the top of your head. Using one of your bobby pins secure it into place. Then, you can repeat with the other braid. It is best if you try your best to hide the rubber bands with the hair and pins.
I mean, HOW easy was that ladies??? Enjoy your new summer hairstyle!!!
Hairstylist Wesley O'Meara of The Wall Group will be answering your hair questions regularly here at Beauty High, so submit any pressing tress issues to experience@stylecaster.com with the subject: Dear Wesley. You can also tweet @Wessles for all of your daily hair needs. Wesley is known for his innovation and fearless approach to the craft — he has been on a whirlwind rise for the past couple of years. Entirely self-taught, he is known for his ability to make any challenge look effortless, and his cheerful, energetic personality makes him a favorite on-set, where he exudes his love for the collaborative creative process. Wesley's clients include Sarah Jessica Parker, Chloe Sevigny, and Uma Thurman. His editorial work can be found in the pages of Vogue, Interview, i-D, V magazine, and many more.
[Images via Sipa]