BellaSugar, a part of PopSugar Network, provides beauty junkies everywhere with a destination to learn what's hot in the world of beauty and skin care.

Taking on a hair legend like Rapunzel can't be easy, but Mandy Moore seems up to the challenge.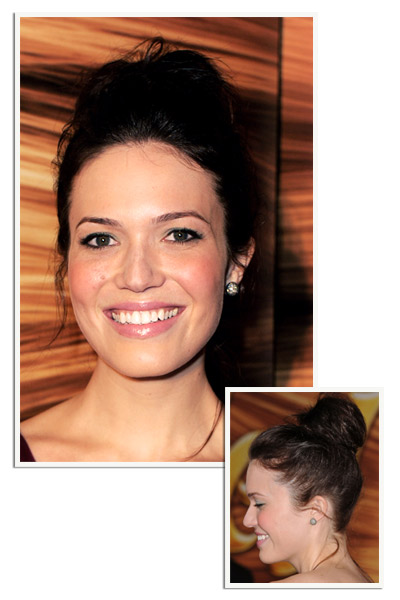 Photo: © (Front shot) Kevin Winter/Getty Images (Side Shot) Jason Merritt/Getty Images
The star of Disney's Tangled is the voice of the heroic hair-whipping princess. And while the story's heroine wears her hair down, Mandy wore hers in a whimsical bun for the movie's premiere. Our friends at BellaSugar give the tips to get Mandy's tangled bun, keep reading:
Step 1: On partially dry hair, spray on a texturizing hair spray.
Step 2: With a small comb, lightly tease your ponytail.
Step 3: Use your hands to lightly smooth teased strands into a bun. Secure with bobby pins, but leave one small section of hair loose.
Step 4: Wrap the loose section around the base of your bun, covering the hair elastic, and secure it with a bobby pin.
Step 5: Smooth the back of your hair with a glossy finishing pomade.
Step 6: Finish the look by pulling small tendrils near your ears. Twirl them around your fingers for loose curls.
More from BellaSugar:
Get Cozy Mad Men style Winged Eyeliner
Scent Of The Season: Peppermint

Try on Mandy Moore's hairstyles in the Makeover Studio!