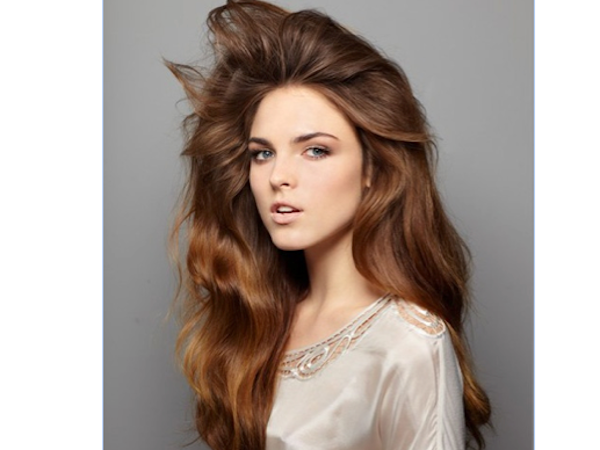 No matter the season, when you get ready in the morning, you want to stay looking that great all day long. While we can't always keep our eyeliner from not smudging, at least there's something we can do about our hair. Yes, those locks might seem to refuse to have volume but with a few tricks from the pros, you can retire that top knot for good. Here are 10 tips for how to get hair volume right now.
Do: Use the right cleaning products. Start with an anti-frizz shampoo and conditioner, says Nunzio Saviano, owner of Nunzio Saviano Salon in NYC. For curly hair, try moisturizing shampoo and conditioners to minimize frizz.
Do: Blow-dry your hair upside down if you're in a hurry. Richard Kohlen, hairstylist to actress Meghan Ory and set stylist for Once Upon a Time, says flipping over is his number one trick to getting volume—especially if you're short on time. Add a little of his favorite product, White Sands Liquid Texture to your roots, and blow-dry your hair upside down. Then continue drying your hair normally, and smooth only the top half as to not brush out the effort you put in on the under half.
Do: Apply texturizer all over. Celebrity hairstylist Mitch Stone, who has worked with Jennifer Lopez and Kyra Sedgwick, says that you might need more product than you think. He suggests applying texturizing spray all throughout your hair, concentrating at the roots but working it all the way to the ends.
Do: Blow-dry hair in sections. If you have time, dry your hair in ¼ inch sections starting right at the top of your head on either side of your part, Stone says.  Take the first section and direct the hair to the opposite side from the way it wants to go, up over your part. He recommends hitting each section with his Mitch Stone Session spray for added oomph.
Don't: Be afraid to tease. Stone advises taking those same quarter-inch sections and lightly teasing them to lock in that volume.
Don't: Use pump hair sprays. The biggest don't for getting volume, Kohlen warns, is using a heavier pump hair spray that will only weigh the hair down.
Do: Scrunch your hair if it's curly. For real quick process, just walk away and continue scrunching your hair till it dries, Stone says. If you have a little more time and want more control, flip your head upside down and slowly scrunch with the blow dryer until dry.
Do: Use rollers. Stone loves using Caruso steamrollers after the texture spray has been set into the hair: The texture spray will act a bond to hold the root straight out from the scalp creating a amazing volume finish.
Don't: Leave the house with wet hair. For volume always, always make sure your hair and whatever product you've put into your hair, is completely dry. This locks in the style, Stone says.
Do: Reapply product as needed: Kohlen's favorite product for keeping volume throughout the day is White Sands Liquid Texture Firm Finishing Spray. You can get great hold and you're able to reapply it as you need, as well, he says—plus, won't weigh your hair down.
Image via Pinterest, Source: OurVanity.com