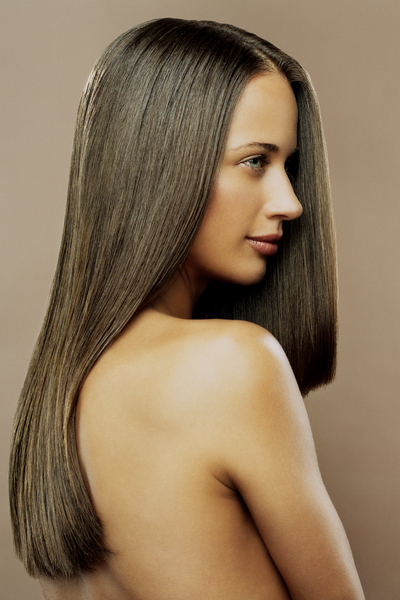 Most of us get stuck in hairstyle ruts, but there's no time like the present to revamp your look. 2012 can be the year that your hair goes from good to great–provided you follow a little expert advice, from our friends at BellaSugar. Here, top stylists share the top ways to have better hair.
Soften your strands
"If you want your hair to look its best, you need to treat it with a little love," says Matrix Artistic Director Ammon Carver. "Ask your stylist about getting regular treatments to keep your hair looking healthy and happy." He uses Biolage's Ultra Control Deep Smoothing Masque in the salons, then sends clients home with Total Results Silk Wonder oil to add moisture. "Just a small amount," he says, "and your hair will be silky soft."
Stop the damage
Make this the year you banish frizz and split ends. "To make every day a good hair day, you must focus on the health of your hair," says celebrity stylist Sarah Potempa, who recommends Aussie Split-End Protector. "By using this daily, the cuticle of the hair will smooth down and help prevent damage, leaving your hair looking freshly cut." Getting a haircut every six weeks will also keep hair looking smooth and healthy, since you'll be trimming away split ends in the making.
Love your natural texture
Why fight what your genes gave you? "Save time and learn how to play up or celebrate your natural texture," says celebrity stylist Sunnie Brook Jones. "Do this by applying a light-to-medium serum to control frizz and give your hair extra shine. Then, hands off! Just let your texture air-dry."
Fix it or nix it
If you've been unhappy with the services of your stylist or colorist, there's no better time to start asking for what you want. Bring pictures of styles to your next salon visit, and explain that you'd like to go in a new direction. If all works out, you'll feel good about your look. And if not, that's a sign that it may be time to try someone new.
Get out of a rut
"Find a new style that you will want to wake up and do," says Potempa. "If that style seems difficult for you, this is the perfect time to learn how to style your hair, find the right tools for the look, and practice, practice, practice!" Need to perfect an updo without using bobby pins? Try Potempa's Wrap-Up ($12) or the utterly goof-proof Goody Spin Pins ($7).
Spoil your scalp
Hair health starts at the scalp, says Jones. "I recommend using a moisturizing shampoo and conditioner like Head & Shoulders Smooth & Silky," she says. "It improves scalp health and calms frizzy, dry hair, giving you the best base for a beautiful style." And if your scalp is well-moisturized, you can forget about itch and flakes.
More from BellaSugar:
5 Nail Trends To Look Out For
3 Easy Steps For Dry, Cracked Heels
Expert Tips To Make Your Manicure Last