Blush is the ultimate 10-second makeover: A little color on your cheeks can make you look fresher, healthier and more awake in an instant. And while it's possible for most of us to pull off a range of shades, there's an art to choosing the perfect blush, and it involves really knowing your skin tone, as well as its undertones. The idea is to find a blush that will look harmonious with your complexion without looking as though it was an afterthought. Here are a few easy tips to help you to do just that.
The Best Blush For Your Skin Tone
As a general rule of thumb, if your complexion falls in the medium to dark range (brown, tan, golden or olive skin tones), opt for warmer shades like coral. Cooler tones, such as pinks and mauves, are best reserved for those with neutral to rosy skin tones.
For porcelain skin tones, apricot blush works well and gives a natural, 'wind flushed' look. If you have red hair or freckles, apricot shades give your skin a glow without making it looking ruddy. Try: L'Oréal Paris Magic Smooth Soufflé Blush in Celestial ($12.95, lorealparisusa.com)
Cool blondes (ash or platinum shades) and those with Snow White-type coloring (black hair, cool to neutral skin) look gorgeous in soft bubblegum pink. Try: Nars Blush in Gaiety ($28, narscosmetics.com).
If you have yellow or olive undertones, opt for an amber blush. Try: MAC Mineralize Blush in Amber Glow ($23.50, maccosmetics.com).
Dark skin tones don't flush naturally, so instead choose a cheek color that adds warmth. Terra cotta or even red-orange shades flatter brown skin. Try: Yves Saint Laurent Crème de Blush in Audacious Orange ($38, sephora.com).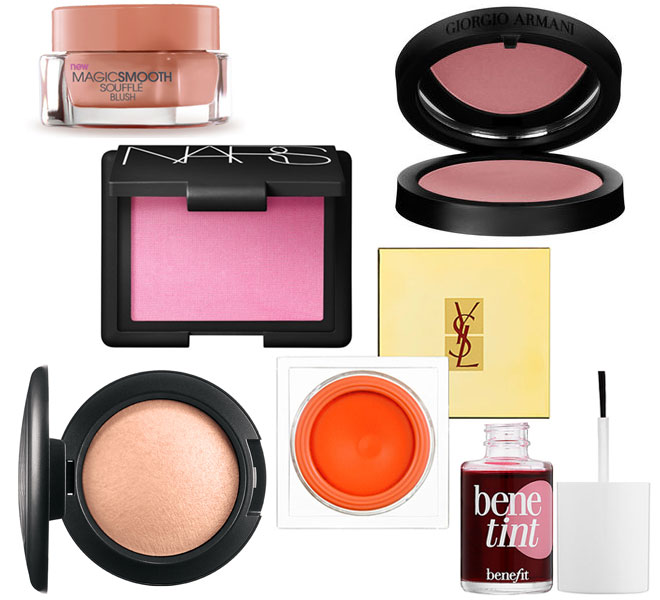 Cream, Powder or Liquid?
Cream formulas add needed moisture to dry or mature skin, and make your complexion look lit from within. Powder blush will have more staying power on oily skin, and if you have blemishes or dark spots on your cheeks, powder can go over your concealer (cream blush can rub away your base makeup). Liquid stains like Benefit Benetint ($29, sephora.com) are easy to blend and resist smudging once dry.
No matter which formula you choose, apply like over like: Apply cream or liquid blush to moisturized skin before you add setting powder; dust on powder blush after applying face powder.
Complement Your Lip Color
If you tend to wear stronger lip colors, choose a neutral or dusty pink shade which will enhance your bone structure without adding excess color to your overall look, says celebrity makeup artist Andrew Sotomayor. Add blush after you've applied your lip color so you can adjust the intensity to avoid looking overdone. Try: Armani Sheer Blush in Beige ($44, giorgioarmanibeauty-usa.com), a soft, sheer blush that gives skin just enough glow.
What's your favorite cheek color?