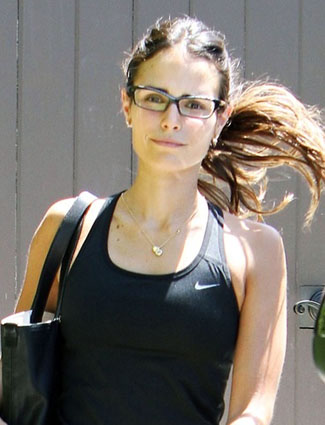 Wouldn't it be great to be able to walk out of the house with no makeup and flawless skin, like actress Jordana Brewster? Cosmetic medicine physician and creator of Naila MD Skincare, Dr. Naila Malik, offers her tips to enhance your natural beauty and go makeup free.
Related Article: The Right Way To Squeeze A Zit
1. Exfoliate the face
With proper exfoliation, you can ensure your skin is polished and luminous. Normal skin types can exfoliate 2-3 times per week, while more sensitive skin should do 1-2 times per week. Choose an exfoliator with good-for-you ingredients that will not only leave skin fresh, but smelling great too.
2. Exfoliate the lips
Bet you didn't think your lips needed exfoliation, but to ensure a flawless face and to bring out your natural lip pigment, exfoliate your lips at the same time as your face. Use a Clarisonic ($195, Skinstore.com) or even just a toothbrush to get rid of dead cells to reveal smooth, kissable lips.
3. Get rid of under-eye bags
The eyes tell a lot about your health and well-being, so to enhance your natural beauty and go bare faced, try resting with cucumber slices or green tea bags over your eyes for 10-15 minutes. Even though these are everyday products, they can help reduce inflammation and puffiness.
Related Article: Marisa Miller Shares Her Amazing Skin Secrets
4. Choose a BB Cream
Instead of wearing heavy foundations or feeling self-conscious about having absolutely nothing on, choose a tinted, ultra-lightweight BB Cream, like Naila MD Suncare BB Créme ($40.95, Nailamd.com). You're getting skincare benefits like SPF with the perfect amount of sheer coverage.
Would you be willing to forego makeup if you had glowing skin?