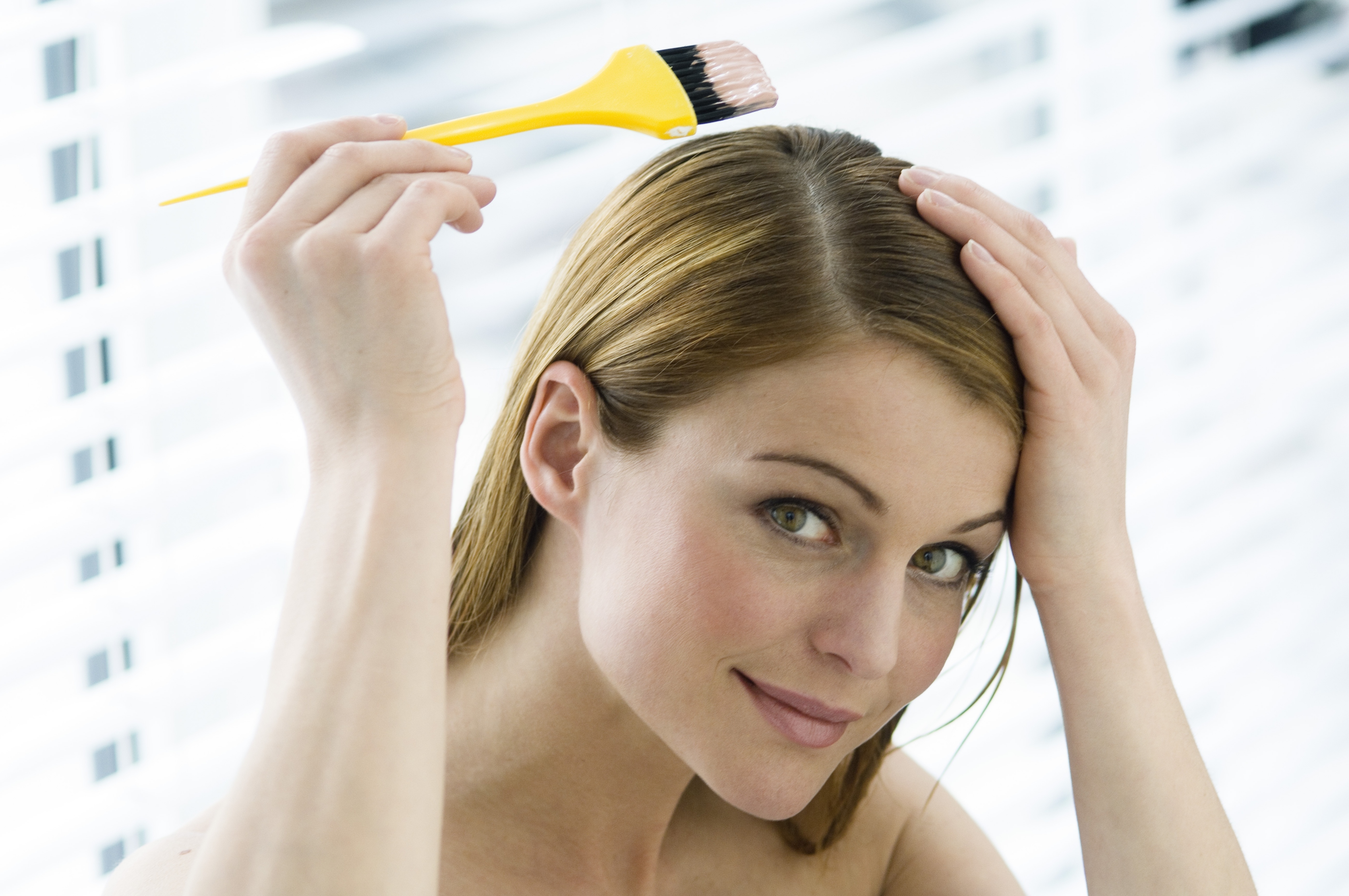 Considering the high volume of DIY happening these days, it makes perfect sense that ladies everywhere are turning to at home hair dye instead of heading to the salon. Plus, with all of the amazing at home hair dye kits available now, it doesn't shock us that coloring hair at home has become huge. But, although you read as many tutorials as you can on how to color your hair at home, there are some mistakes that no one tells you to avoid.
We want you to have the best at home hair dyeing experience you can possibly have, and to help you get there, we've put together a list of eight mistakes to avoid when you're DIY-ing your hair color. Read on below!
Starting with clean hair: Logically, it would make sense to start with freshly washed, clean hair when you're dyeing it at home. In the reality of the hair world, however, clean hair is slippery and won't hold onto the color very well. Color your hair at home just before you would usually wash your hair (whether that's every day or once every two days depends on your hair's texture) for the best results.
Not using a deep conditioning mask before and after: If you plan on coloring your hair on a Saturday, make sure that twice during the week you use a deep conditioner or a hair mask instead of your regular conditioner. This will ensure that your hair is healthy and can properly absorb color when you do use the dye. Also, after you wash the dye out of your hair, be sure to use a deep conditioner once more to seal in the color. Most kits come with a deep conditioner, but if the kit you're using doesn't have one, rest assured you should still be using one.
MORE: Cheap Thrill: The Best At-Home Hair Color Kits For Red Carpet Results
Not looking at the side of the box for color representation: Because of the displays in most stores, hair dye boxes show you one picture of hair color on the front of the box. The tell tale sign of what a color will actually look like is on the side of the box, where a before and after representation is usually found. If you naturally have dark brunette hair, a box color kit will not make you a platinum blonde, and vice versa.
Choosing a color more than 2 or 3 shades away from your natural color: Your home is not the place to experiment with a drastic hair color change, but a place where you can enhance your own color. If you're looking to make a big transformation, head to the salon, because box color won't do it for you. Go with a color that's two or three shades within your natural color for the best results.
Neglecting the Strand Test: Much like a Skin Test with a new exfoliator, testing the hair dye on a strand of hair before you dive right in will tell you how long to leave the color on, and whether you like the color at all. Use a strand behind your ear on the side of your head so that it can easily be covered up but you can still see it against your skin tone. If you hate the color, you'll be glad you didn't apply the dye to your entire head.
MORE: 20 Hair Mistakes We All Make in Our 20s
Not using lotion on your forehead: Whether in the salon or at home, hair dye can become a messy situation for your forehead. Before you start dyeing your hair, apply lotion or Vaseline to your hairline. This creates a barrier for your skin so that not only will dye have a harder time soaking into your skin, you'll also be able to clean any stray dye off much more easily afterwards.
Not putting down towels or newspaper: As we mentioned, hair dye can get messy very quickly. Careful as you may be, there's bound to be some stray dye that inevitably ends up on the floor (or wall, if you're really not careful), and that removal process can be incredibly tricky. Do yourself a favor and put down towels, newspapers or anything that can cover the floor to avoid ruined tile in the bathroom.
Using artificial light: This holds true especially for the strand test, but if you use fluorescent lighting to dye your hair, you won't be able to tell what the color actually is until you step into natural light, at which point you might be horrified. Try to use natural light in your bathroom as the sun's coming in through the window for the most accurate color representation.
Image via Alain Schroeder/Getty Images