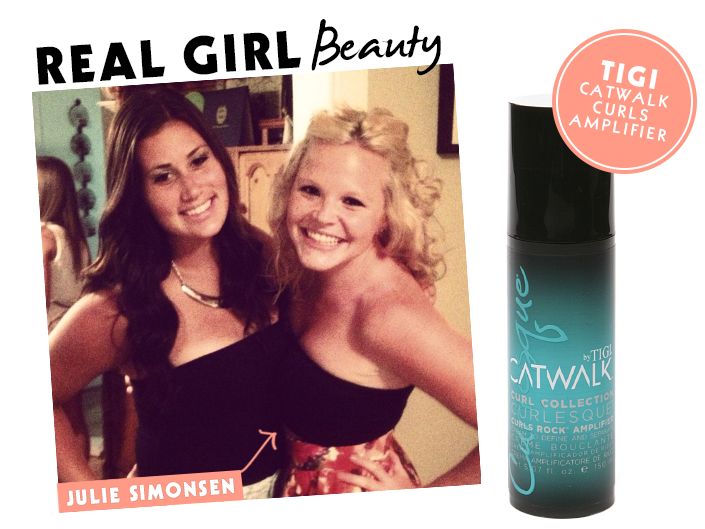 Going backstage and learning tips and tricks from the professionals may be an adventure, but sometimes, the best tricks come from real girls. In "Beauty and the Real Girl," we learn the best beauty tips, tricks and secrets from girls just like us.
Anyone with curly hair knows that waking up every day is an adventure. Some days you get out of bed looking like there's a huge, dead animal on top of your head, and other days you wake up looking like the star of a curly hair shampoo ad. With naturally curly hair, you never know what you're going to get, so finding products that can make your hair a little more reliable every morning is like finding gold.
Julie Simonsen, a selling specialist for Lilly Pulitzer in Philidelphia, has natural curls that went rogue once she cut off her hair. But, because of the product she recently discovered, every one of Julie's friends can't help but ask how she gets her hair to look great every single day. We caught up with Julie to learn her hair secret. Read on below!
MORE: 8 Curly Hairstyles for Girls With Natural Curls
"Everyone always tells me that they prefer my hair straight, but I never listen because I love it curly. When I was a teenager, I'd be able to go to sleep and wake up with natural curls. When I cut my hair really short freshman year of college, I wasn't able to do this anymore, which made having curly hair a hassle. I recently tried applying Curlesque Curls Rock Amplifier by Catwalk into my wet hair before going to bed and when I woke up, for the first time in years, my hair held its natural curl that I love. It really enhances the natural texture of my hair where a lot of other products simply weighed down my curls or made them way too crunchy. With this one, all I have to do is run it through damp, clean hair, and I wake up with a good hair day every day."
Where to Buy: TIGI Catwalk Curlesque Curls Rock Amplifier, $10.99, Drugstore.com
Image Courtesy of Julie Simonsen