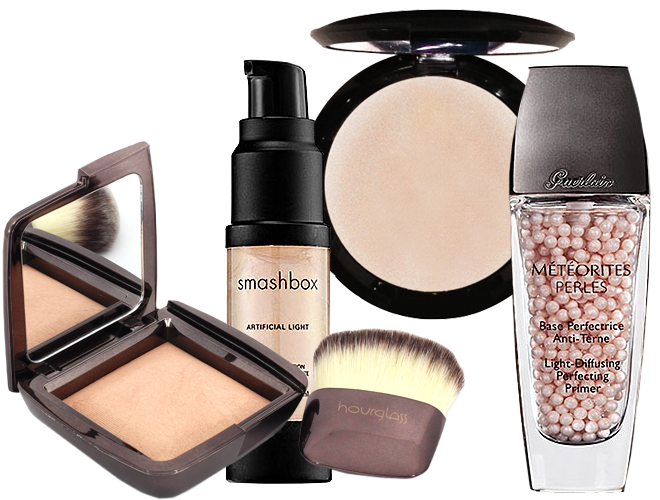 Concealers and foundations are meant to hide skin's imperfections, but many of them end up highlighting the problem instead. Now, more and more products claim to be able to mask issues like redness and fine lines by using light-reflecting ingredients. The latest light reflector on the block, Hourglass Ambient Lighting Powder ($45, sephora.com), makes similar promises and had me curious to learn more about the technology behind such products.
"Unlike traditional powders that use opaque pigments to cloak the skin, Ambient uses micron-size photoluminescent spheres that neutralize the complexion without leaving a mask-like appearance," says Hourglass Founder Carisa Janes.
The line of powders, which are each created to address a particular concern, whether it be redness, uneven skin tone or dullness, use optically transparent particles to refract light so the particles glow, thus camouflaging skin's imperfections. Sound high-tech? The military has experimented with a similar light-reflecting strategy for the camouflage patterns they choose.
More Products That Use Light
It Cosmetics Hello Light Powder Illuminizer ($24, itcosmetics.com) uses micronized, light-reflecting pigments in its formula to blur the look of pores and fine lines so they're less noticeable.
Guerlain Meteorites Light-Diffusing Perfecting Primer ($70, sephora.com) primes skin with pearls of light that camouflage blemishes and discolorations.
Smashbox Artificial Light ($26, beauty.com) can be mixed with a foundation or moisturizer to give skin a glow with its light-reflecting formula.
Are you convinced this new light-manipulating beauty trend will work?