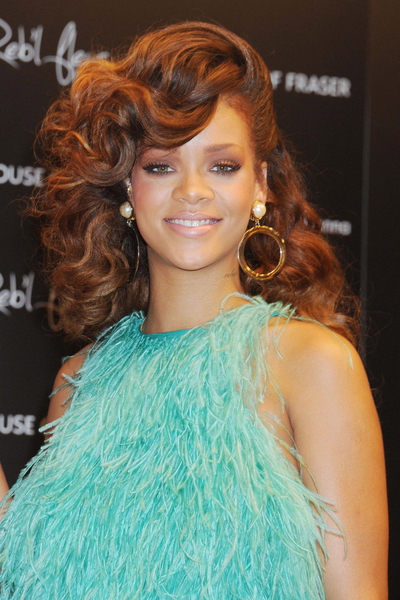 Photo: © David M. Bennett/Getty Images
Hollywood's influence on beauty trends and Mad Men has made the retro look sexy and in-demand again, according to Janine Jarman, owner of Hairroin Salon and West Coast spokesperson for Sebastian Professional.
Recently, Rihanna turned heads at a Reb'l Fleur fragrance launch in London when she stepped out donning voluminous curls that reminded us of hairstyles worn by Motown's iconic girl group, The Supremes. Models strutted down Dior's Fall 2011 runway wearing romantic spirals that matched Galliano's Parisian aesthetic. And everyday women are getting familiar with curling irons again to style their strands in this alluring 'do.
"The glamour and style of the '60s and '70s will continue to be popular this fall with more period dramas such as Charlie's Angels and The Playboy Club, Jarman tells Stylelist. "Retro curls are easily one of the most beautiful signature looks of that era, and they look great on any woman!"
Advancements in technology have also played a large role in making this one of the most sought-after styles. "Curling irons go up to 450 degrees now, the highest temperature in their history, and also have more user-friendly clamp designs for easier styling. There are also super-hot rollers, such as those made by Babyliss, which are made from exceptional heat-conducting materials that curl hair in less time and with less damage," says Jarman.
Want to give retro curls a go? Our friends at Stylelist got Jarman's detailed guide on recreating this look:
1. Apply Sebastian Mousse Forte evenly through wet hair and blow dry inwards with a metal round brush. This is how you build volume from the start.
2. Once hair is dry, create a side part. Then section hair ear to ear.
3. Heat a ½ inch barrel curling iron (Hot Tools' spring handle irons work well).
4. Start with the heavier side part and take sections no bigger than your iron. Hold the section up and slightly back comb the root.
5. Spray Sebastian Shine Define on each iron-size section before you curl to both protect the hair from the heat and lock in the curl.
6. Pass the iron over each section of hair before you curl it to start heating it up.
7. Start curling each section at mid shaft and feed the ends through by "clicking" the iron (move the prong up and down on the curling iron until hair is coiled through, and the prong and barrel click). This will ensure you heat your hair evenly.
8. Roll the iron all the way to the base at a 90-degree angle. Then click the iron until hair is free from the clamp (to ensure you don't create crimps from the spring arm). Clip the curl on its coiled section with a two-pronged clip to cool.
9. Continue this section by section on each side in the front.
10. Repeat the process for the back of the head (spray each section, start at mid shaft, feed ends through by clicking and clip to cool)—except do it in a brick lay pattern.
11. Your entire head should be in curls and clips at the end. When it's all clipped and cool, remove the clips and brush hair out with a soft brush from root to ends until all the sections have combined and are retro waves. Finish with Sebastian Shaper Zero Gravity hair spray.
12. Leave it perfect and polished, or to add a modern touch, mess it up a bit to give it a more undone touch. Clipping back one side of the hair also looks great and adds a romantic feel.
Keep in mind that not all curls are created equal and the key to ensuring a successful 'do lies in the prep work and styling tools. Jarman cautions not to commit the ultimate curling sin: spritzing hair while it is on the iron. "Always use a heat protecting product and make sure hair is 100 percent dry before you begin," says Jarman.
The pro's final words of advice: have fun. "Retro curls are a great way to get out of the 'this is how I normally wear my hair' funk. That's the beautiful thing about period hairstyles. You get to be transformed and transcend decades just for the night. It washes out so loosen up and go for it!"


Try on Rihanna's hairstyles in the Makeover Studio!
More from Stylelist
Kirsten Dunst Loves Louis Vuitton
Rachel Zoe's Style Evolution
Facial Hair Causes Stress: Here's How To Solve It