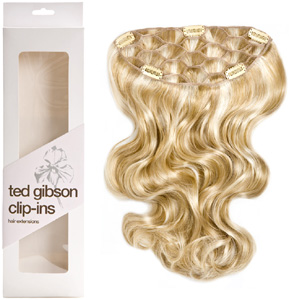 Halloween is right around the corner Gibson Girls and I know you all must be so excited for it. I love Halloween because it really gives you a chance to go crazy and create a unique look. I'm super-excited for this year because I've come up with some great ways to use my hair extensions to create some iconic, gorge looks. Check out my suggestions!
Britney Spears
She may have had some high and low points these past few years but one thing's for certain, a Britney costume never goes out of style. To create the look, use my Reese clip-in extension, then tousle it and backcomb for that sexy, messy look.
Farrah Fawcett
The late, great Farrah was a hair icon from the very beginning so with this look it's definitely all about the hair. Fortunately it's pretty easy to get her look, just attach the Jennifer extension to your hair and leave it as is. You'll have that gorge, full look that Charlie's favorite Angel wore so well.
Lady GaGa
She's been all over the place this year, so it's no surprise that a Lady GaGa costume is a big draw for Halloween. To create her blonde bombshell look, attach a Reese extension to your hair, then pull all the hair to the back and cut the bottom so it creates a blunt edge. Flat iron to get that super straight, shiny and sleek finish.
Michael Jackson
The King of Pop rocked a sleek, black look in his later years, so recreate that with my Gabriel extension. Brush it out so the waves become very soft and subtle. Add a fedora and shiny silver glove and your are all set!
Need more Halloween costume ideas? Check out:

Budget Halloween Costumes from Beauty On A Dime

Vampire Chic from Positively Beautiful

Get A Virtual Vampire Makeover!
As always, Beauty Is Individual.
As a celebrity hairstylist, I often receive samples of new products directly from beauty brands to test out. Any product I mention in this blog is one that I've tested out myself, in accordance with Daily Makeover's Editorial Ethics Pledge.