Admit it &#151 there have been times when you went to the beach and didn't properly apply your sunscreen as often as you should have. (And we're not even going to mention you renegades who decide to forsake sunblock entirely to get a nice "base tan;" how's that burn working out for you?) Burn lines are unsightly and look every bit as painful as they are. They are not the all-over summer glow you want to have. If a strapless dress is in your future wardrobe plans, here's some expert advice from celeb makeup artist Carmindy, author of the blog Positively Beautiful, on how to cover up that burn and get some temporary relief.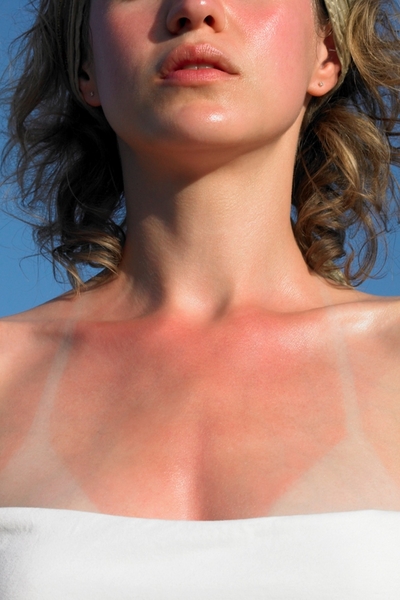 "The first thing you should do after getting a bad burn is to take a few aspirin and coat yourself with healing aloe vera gel, This will begin to heal the skin." Carmindy says. "Next, take a cold shower, and afterward, apply a nice layer of moisturizer to bring that skin's hydration back to a balance."
If you want to cover up your burn, you'll need a non-latex sponge, tan airbrush spray makeup (Carmindy recommends Sally Hansen Natural Beauty Inspired By Carmindy Airbrush Spray Makeup), yellow-tinted powder and a bronzer. "Spray the area that is burnt with the airbrush makeup, lightly misting the surrounding area as well. Next, use the sponge to lightly tap the foundation into the skin across the whole burnt area. Don't rub, as this will only irritate the skin; instead, stipple the foundation by pushing it in with the sponge."
Next, dust a light layer of yellow-tinted powder to set the makeup and use a translucent loose powder to stop the red (Carmindy recommends her Truly Translucent Loose Powder in Neutralizer). "After the powder, use a blush-size brush to sweep bronzer in any white areas and watch the marks disappear. The foundation and powder act like a neutralizer, and the bronzer fills in the white marks."
Of course, the there is a way to avoid this whole process. Make sure you're properly covered whenever you're going to be exposed to the sun: Put sunscreen on before your bathing suit, and make sure you keep reapplying throughout the day!
As one of the web's largest beauty sites, DailyMakeover.com constantly receives products from beauty companies for editorial review. Please read our Editorial Ethics Pledge if you'd like to know how we select products to feature.