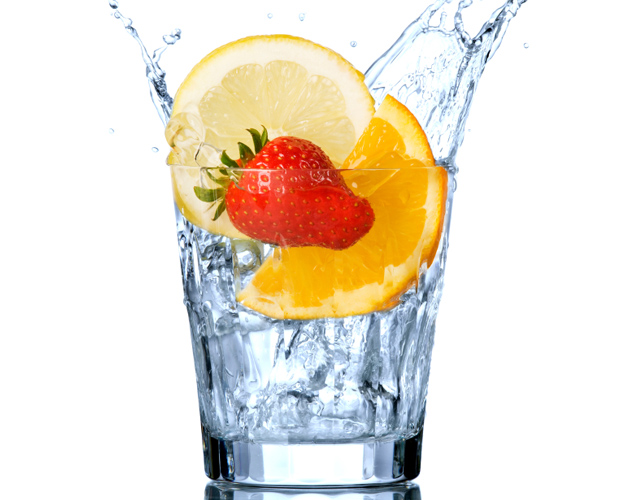 We've all heard that eight glasses of water a day is what it takes for your body to maintain optimum health, and it's even more important now that the mercury is reaching scorching levels. You should actually add MORE water to your diet than ever to make sure your body stays hydrated and that your skin (protected by SPF, of course) stays supple.
But, honestly, who wants to throw all that water down your throat? This is when it helps to have celebrity nutritionists and experts that can help you learn how to sneak some extra H2O into your life…through your diet. Here, two celebrity experts explain how to get extra credit points on your daily water intake:
Ellie Krieger, registered dietician, New York Times bestselling author and host of Food TV's and Cooking Channel's hit show, Healthy Appetite, knows a thing or two about how extra hydration can help your skin as one of the advisory board members for Simple Skincare. She says that you consume a good amount of your daily intake of water through foods. "Actually, about 20-25% of the liquid we consume comes from food," says Ellie. "If you can increase the amount of fluid you get from food, it will help hydrate you from the inside out." Ellie also advises that foods that are rich in water are low in calories and high in satisfaction (which is always a good thing when watching the ol' waistline.)
Summer is one of Ellie's favorite seasons to get water-filled food. "It makes sense that foods that are quenching are more available in summer," she says. Top of the list on her chart of hydrating foods? Fruits and vegetables, of course. Melons in general, particularly watermelon, are filled with water. Peaches are also just a plump morsel of water, and so are grapes."
When it comes to vegetables, Ellie says tomatoes and cucumbers are the perfect solution, especially when you combine them in one of her favorite dishes. "Gazpacho is a perfect way to get more water into your diet in a yummy, delicious dish that's fast, easy, healthy and good for you. It's a great way to fluids, and it's also really filling. Plus,  it's great for you skin – the lycopene in the tomatoes and the olive oil help protect your skin from sun damage."
Other water-rich foods you might not suspect? "Yogurt and milk are also really rich in water. Yogurt is actually just protein suspended in liquid, so it's a great way to add more water to your diet. Making smoothies with water-rich berries also counts." She also loved fish. 'Seafood is rich in water, and fish tend to be incredible sources of both protein and extra hydration. Servings of fish will also help you stay satisfied longer, so you're not tempted with snacking later."
Another good suggestion is to make your regular water a bit more fancy. "I always make herbal iced tea to have on hand. The berry-flavored ones are especially refreshing in the summer heat, and it helps infuse some flavor into your water!" She also has a hydration double whammy idea that's cool and refreshing in the summer heat: I love to take chunks of watermelon and put it into my pitchers of water. It infuses flavor and it's kind of like doubling your points. You're basically just adding water to water."
Paula Simpson, Beauty Nutritionist and Nutricosmetics Expert, advises that "most fruits and vegetables contain over 80% water," so adding more of them to your diet will help give you extra hydration. In addition to Ellie's suggestions, she also suggests servings of celery, which is also high in hydration.
Paula also suggests that raw fruits and vegetables are better than cooked. "Raising the temperature of food dehydrates it, so you'll get more hydrating qualities from your foods if you don't heat them." She also loves flavored waters as a way to make your hydration habit less tedious, with labels like Activate Water ("the antioxidants are built into the cap, so it's never diluted," advises Paula) and Hint Water topping her list.
Paula is also a huge fan of juicing as a way to add nutrients and hydration, and one of her favorite hydration combinations features a mixture of cucumber, kale, apple, and dandelion. "Dandelion energizes the body, balances the body's pH system and the amount of cellular water in the body. When we take in too much salt from our diets, the sodium can cause the cells to swell. Dandelion (and celery, actually) acts as a natural diuretic for the cells, helping them balance out their water content."
Image via Istock
For More Health & Fitness Tips On Beauty High:
Fitness 101: The Ultimate Guide to Looking Great
Exclusive: Adriana Lima's Top 10 Fitness & Beauty Tips
Skip the Gym Membership: Four Fab Fitness Apps